Effects of Raging Hormones on Your Skin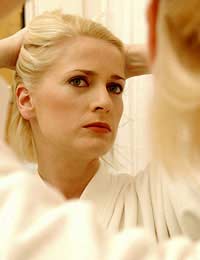 Changing hormones can cause all sorts of skin problems for adults. Pregnancy, puberty, medical conditions, menopause, and the regular process of ageing can bring on these hormonal changes and their effects.
Common Causes of Hormonal Changes
Pregnancy brings about a shift in hormone production as the body makes changes to support and nourish the developing fetus. Too much of one hormone and not enough of another can wreck havoc on the health and appearance of your skin.This is also true of menopause. As your body begins the process of slowing down and stopping menstruation it slowly eliminates the production of hormones you will no longer need for reproduction. This elimination causes an imbalance in hormones, which brings about unwanted skin changes.
Certain medical conditions, like over-active thyroid, can also cause an imbalance in the hormones that your body produces. This imbalance is caused when the thyroid produces too much or too little thyroxin. This irregularity can lead to skin problems and other medical symptoms.
Finally, the process of ageing can lead to hormone imbalances that cause less than desirable effects on the skin. As we age our body produces less estrogen, testosterone, and other important hormones that help keep our skin firm, plump, smooth, and ageless.
Effects of Raging Hormones on Your Skin
The actual cause of the hormonal imbalance indicates which type of symptoms you are most likely to suffer from. A hormonal imbalance caused by pregnancy will result in acne breakouts, dry skin, oily skin, and skin discoloration.
Menopause can cause skin changes such as excessive dryness, looser skin and less elasticity, increased wrinkles, paler skin tone, and a more fragile make-up that makes skin more susceptible to injury.
Thyroid problems, on the other hand, can lead to flushing and increased redness of skin, and to the formation of thickened facial skin that reduces the skins ability to sweat and eliminate toxins. This reduction in sweating ability can also lead to breakouts and skin blemishes.
Finally, hormonal changes due to ageing can produce the skin problems we are most familiar with- fine lines, increased wrinkles, sagging skin, discoloration, increased hair growth, dullness, and thinning.
Tips for Calming the Symptoms
While some hormonal changes cannot be stopped, like those due to pregnancy, there are ways to help reduce the effects of these changes on your skin.
For hormonal changes brought on by medical conditions, such as an over-active thyroid, your first step is to seek medical treatment for the disorder. Once the condition is brought under control the skin problems should disappear. In the meantime you can keep your skin adequately hydrated by drinking plenty of water each day, exercise regularly to keep blood flow and oxygen delivery to the skin optimal, and use exfoliation techniques to help rid the skin of dead cell layers which can block pores and cause breakouts.
To help ease the symptoms of pregnancy changes you should wash your face twice daily with a gentle cleanser to remove dirt, grime, and excess oil, moisturise daily to help reduce dryness, eat plenty of fresh fruits and vegetables to keep skin glowing and ensure the proper levels of important health skin nutrients, and use a mild anti-acne topical cream to reduce the formation of breakouts.
To help treat the skin symptoms brought on by menopause and ageing (which usually both result from the reduced production of oestrogen in the ovaries) you need to keep your skin adequately hydrated through the ingestion of at least 8 eight ounce glasses of water each day and the use of a rich moisturiser. You can also use an anti-ageing cream or lotion to help combat fine lines and wrinkles.
To help skin keep its elasticity and glowing color you should engage in at least thirty minutes of exercise each day. This exercise will help bring blood to the skin's surface where it can produce the flush of health and deliver vital nutrients like oxygen to the cells of the skin. Finally, to help ward off these symptoms and the other symptoms seen in the entire body as you age you can speak to your doctor about estrogen therapy. This therapy helps replace estrogen production through medication, which balances your hormones and eliminates symptoms.
Raging hormones can have undesirable effects on your skin but with a little patience and know-how you can ward off these symptoms and enjoy the look of your skin during even the most off-balance times in your life.
Skin Help is sponsored by Purely Energy, who have funded a lot of our content. If you are looking for a low cost business energy supplier, take a look at their website.
SKIN HELP IS FOR SALE.
This website is for sale [more info].
You might also like...
skin is produced pox.. which hormones produced
Sham
- 12-May-17 @ 4:25 AM
carol - Your Question:
I have pimples, spots on my face and I have been trying many products on face but it doesn't help me at all.I'm tired of wasting money and not getting help.please help
---
Our Response:
You might want to do some research on face mapping spots - which may show you what the different regions mean. As specified in the article, in the meantime you can keep your skin adequately hydrated by drinking plenty of water each day, exercise regularly to keep blood flow and oxygen delivery to the skin optimal, and use exfoliation techniques to help rid the skin of dead cell layers which can block pores and cause breakouts. If none of these things work, then you should visit your doctor who may be able to prescribe a skin cream or even medication to help clear up your skin.
SkinHelp
- 1-Mar-16 @ 12:51 PM
@carol - do you have any facial piercings? My daughter has an ear ring and a nose one - once she took them out her skin cleared up. We think it may have been an allergic reation.
Sal
- 1-Mar-16 @ 12:43 PM
I have pimples, spots on my face and I have been trying many products on face but it doesn't help me at all.I'm tired of wasting money and not getting help.please help
carol
- 29-Feb-16 @ 2:42 PM