Treating Roseola Infantum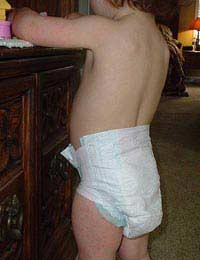 New parents sometimes panic when their small children become ill and spike a high fever. But roseola infantum, which starts with a soaring temperature, usually is nothing at all to worry about, although it can appear frightening.
Also known as three-day fever, roseola infantum is a viral infection that commonly strikes children between the ages of six months and two years of age. It begins with a high fever that can last a few days or more, followed by a rash usually just on the neck and body, which appears just when it seems the fever breaks.
The rash is red and starts on the trunk, then turns white with small halos when you press it. Often, children are irritable when the disease starts, and sometimes they have diarrhoea and/or a runny nose. In small babies, the soft spot, or fontanelle, may also bulge, and people of any age (in rare cases adults come down with the illness) can get swollen glands and puffy eyelids.
Causes of Roseola Infantum
Roseola infantum is thought to be caused by the human herpesvirus 6 or 7, which are not the viruses that cause genital herpes. It is fairly common, and medical opinions differ about how contagious it is. If you catch it, you will see symptoms about a week to ten days after having contact with someone who has the virus.
Roseola infantum usually goes away within a week or so. Once the fever breaks the rash will appear, which will disappear on its own without any treatment. In fact, one unusual characteristic of roseola infantum is that most children appear very well in themselves, despite having a high fever.
Despite that, if you suspect your child does have roseola infantum, he or she should be taken the doctor immediately, to rule out any other illness. A high fever and rash could be indicative of some other condition, so play it safe and get the right diagnosis, both for your child's health and your own peace of mind.
Treating the Fever
Perhaps the most frightening aspect of roseola infantum is the high fever that accompanies it, which in very rare cases can result in febrile seizures, also known as convulsions. Doctors estimate that about 10 to 15 per cent of children who get roseola infantum will experience a seizure, which is characterized by unconsciousness, jerking or twitching for up to three minutes, and sometimes a loss of bladder and/or bowel control.
Most children with this illness get a fever averaging 103.5 F (39.7 C), but it is not that unusual for the fever to soar as high as 106 F (41.2 C). You may want to give your child paracetamol to make them more comfortable (never give a child aspirin). Making sure they are not too hot or overdressed and bathing them in cool water can also help.
If your child does experience a seizure, loosen the clothing around their neck and put them on one side. Never put anything into their mouth, and try to wait patiently for the seizure to subside – easier said than done! When it ends, call your doctor to see if they should be examined or not. Usually, febrile convulsions are harmless.
Other Complications
Roseola infantum is almost always harmless, although in people with a compromised immune system there can be some complications, as with any illness that involves a high fever. Pneumonia, meningitis, encephalitis and hepatitis could all occur as a result, requiring hospital treatment.
The disease affects boys as much as girls, but for some reason the illness peaks in spring and autumn months. The good news is that once you've had it, you develop a lifelong immunity to protect yourself in future.
Also known as sixth disease, roseola infantum is one of the six classic childhood infectious rashes, or exanthems, which have been recognised. Four of the six are viral, including roseola, measles, rubella and erythema infectiosum, or fifth disease.
While there are now vaccinations available against measles and rubella, both fifth and sixth disease are usually harmless, and go away by themselves. So get the diagnosis, give some paracetamol, and try to relax!
You might also like...