Diet Recommendations for Dry Skin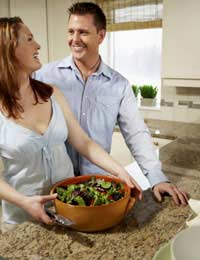 If dry, flaking, itchy skin is a problem for you, especially in the colder months of the year, then you could be suffering from psoriasis, a skin condition commonly known as a dry skin. When most people begin to notice the first signs of dry skin- redness and skin flaking- they usually reach for a bottle of moisturising lotion or oil. However, the root cause of this condition goes further than skin deep.
What's to Blame for Your Dry Skin?
Before you can begin treating your dry skin you need to understand a little bit about the causes of the condition. External causes, or environmental factors, are usually easy to remedy and include such items as wind or cold exposure, bathing or showering with harsh or drying soaps, excessive bathing, and exposure to harmful chemicals found in air pollution. To fight these external causes you may need to make some daily living changes such as wearing more suitable clothing when you are out in the weather, switching to a moisturising soap or cleanser, and adjusting the water temperature when bathing or shortening the time that you spend in each shower or bath.
Internal causes of dry skin include reduced oil gland function and poor diet. Reduced oil gland function results in a reduction of lubrication available to your skin. This lack of lubrication increases water loss on the skin's surface and leads to dehydration, which leads to dry, flaking skin.
Poor diet, or a diet low in healthy foods and high in processed foods and sugar, leads to deficiencies in water intake and the intake of important vitamins and minerals that can support smooth, supple skin. Foods with high water content, and those high in vitamins A and B, help promote healthy gland function and help your skin retain its optimal moisture levels.
Focus on Hydration
When feeding your skin through a healthy diet it is best to focus on hydration. Begin by increasing your water intake to combat natural water loss. Drinking at least 2 liters of water each day is recommended to adequately replace the water that your body looses through perspiration, evaporation, and regular organ functioning. If the taste of bottled or tap water leaves you unimpressed try adding a squeeze of lemon, a few slices of cucumber, a sprig of mint, or a splash of fruit juice to your glass.
Once you have increased your pure water intake you need to concentrate on adding plenty of raw foods to your diet. A diet high in fruits, vegetables, and nuts can help you further increase your water intake and also provide you with plenty of the nutrients your skin needs for repair and natural lubrication. These healthy choices also contain antioxidants that can help your skin combat the drying effects of air pollution and sun exposure.
A good dry skin preventative diet should include three main categories-
Water-based. Choose water-based fruits and vegetables for added hydration. This category includes items such as cantaloupe, grapes, oranges, celery, cucumbers, tomatoes, green peepers, and onions.
Vitamin-packed. Choose foods high in vitamins A, B, and C and in natural antioxidants for optimal skin renewal and repair. These foods include selections such as apricots, strawberries, carrots, blueberries, orange and yellow vegetables like squash and carrots, leafy green vegetables like kale and spinach, and raw milk products or plain yogurt.
Sulfur-containing. Choose foods that are high in sulfur content to promote skin rejuvenation. Eggs, garlic, and asparagus are great choices for this category.
What to Avoid
Even if you stick to a healthy diet you can still run into dry skin problems if you sabotage your efforts with moisture robbing diet choices. Some foods, liquids, and chemicals can actually deplete your body's water stores and promote skin dehydration. For the best results when combating dry skin try to avoid alcohol, caffeine, sweetened soft drinks, foods with a high processed sugar content, fried foods, and the excessive use of animal fats. Alcohol, caffeine, and added sugar can all act as diuretics resulting in a loss of water in skin cells. Fried foods and the use of animal fats can lead to the intake of free radicals restricting the benefits of antioxidants in your system.
Added Benefits
An eating plan rich in foods that fit the diet recommendations of a dry skin regime will also offer other health benefits. The nutrients found in these dry skin friendly fruits and vegetables can promote bone health, organ health, and also help prevent or stabilise many medical conditions such as heart disease, stroke, high cholesterol, hypertension, diabetes and some types of cancers. By making a few small, and tasty, changes to your diet you can easily decrease the occurrence of dry skin and increase your overall health.
You might also like...