Help For Clearing Dandruff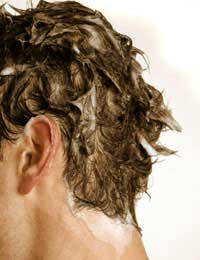 Many people associate dandruff with dry skin. However common dandruff is actually a form of skin inflammation known as seborrheic dermatitis. The condition has no known cure and is not caused by too much or too little moisture or oil on the skin. Although there is no way to cure the inflammation, it can be cleared very effectively with the right course of treatment. For mild dandruff an at-home, or over-the-counter treatment may be the best answer. For more persistent cases a visit with a dermatologist may be necessary.
Treatments You Can Try at Home
Many commercial products are available on the market that can help treat common dandruff. When most people first notice the white flakes that are associated with this condition they turn to dandruff specific shampoos. Most of these medicated shampoos contain some type of tar, zinc, salicylic acid, or selenium sulfide as their main ingredient. Tar is effective because it slows down the turnover of cells that can cause flaking. Zinc works by targeting the yeast-like fungus that lives on the scalp and causes the occurrence of dandruff. Salicylic acid eliminates the appearance of dandruff scales, which reduces flaking. Selenium sulfide provides double treatment by targeting the fungus and reducing cell turnover. Washing with these shampoos once a week, or even every day, can help stop the symptoms and keep them from coming back.
Another way to decrease the occurrence of dandruff is to use creams that are designed to address the fungus that causes the condition in the first place. Cortisone creams and anti-fungal creams can be applied to the infected area daily after shampooing and are safe for most users.
Aside from buying dedicated dandruff remedies, you can also try a few tricks at home to decrease the symptoms of dandruff inflammation. First, start adhering to a healthy diet. The more nutrients and vitamins that you can give your skin the better chance it has of fighting inflammation. Second, reduce the number of styling products that you apply to your hair. Although these products are not known to cause dandruff they can increase its occurrence and severity. Third, try to expose your scalp to natural sunlight. The UV radiation put out by the sun has been shown to reduce the symptoms of common dandruff. Finally, try a thyme rinse on your scalp to eliminate mild flakes. Simply boil four tablespoons of thyme in two cups of water. After about ten minutes, strain the solution and let it cool. Apply this thyme solution to dry hair and massage it into your scalp. Do not rinse until your next shampoo.
If after trying one or more of these techniques for clearing dandruff for at least one month you are still not seeing positive results it may be time to enlist the help of a doctor or dermatologist.
What Your Doctor Can do to Help
Although there is no cure for dandruff, your doctor will have some prescription options that are guaranteed to help you keep the condition under control. Two of these options, shampoos and creams, are similar to the ones you may have tried over-the-counter but they contain prescription strength levels of the active ingredients. Because they contain higher doses of effective medications the shampoos and creams usually clear up the dandruff condition after just a few uses.
Another option your doctor may want to try is the use of cortisone-based treatments. These treatments are available in liquid, foam, and gel form and are applied directly to the scalp. Once you have finished the treatment period as instructed by your doctor your dandruff should be eliminated and controlled for some time.
Knowing What Won't Help
Sometimes it's not enough to just know what to do about your dandruff. Sometimes you need to know what not to do so that you will not interfere with treatment or make your condition worse. Although you may assume that your dandruff is a by-product of dry skin moisturising the area will not help. In fact, the introduction of more oil can actually increase fungus growth and increase any redness apparent on the scalp.
Another thing you want to avoid is over shampooing your hair or switching shampoos before they have had a chance to work. When you over clean the skin you make the scalp drier and more susceptible to flaking. When you frequently switch shampoos you reduce the effectives of the active ingredient.
Finally, avoid stressing about your condition. Stress is hard on every system of your body and can interfere with your body's natural healing process. In fact, worrying about your condition too much can actually cause your symptoms to worsen since worrying represses your immune system. A faulty immune system is less prepared to fight the fungus that causes the inflammation than a healthy one.
Luckily dandruff is not a serious condition, just a socially uncomfortable one. By following the tips above and taking the right steps you can clear up your dandruff in no time.
You might also like...