Keeping Blisters Clean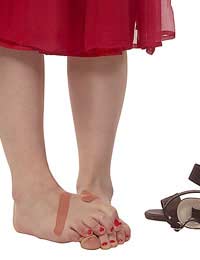 There are a variety of ways to get blisters including burns (even sunburns) as well as any sort of friction on the skin (often caused by wearing ill-fitting shoes or the repetitive use of hand tools, etc.). No matter how you got the blister, though, the result is the same: it is painful and subject to rupture at any moment.
Why it is Important to Keep Blisters Clean
Any blister provides discomfort, not only in the creation of the blister, but also as soon as it bubbles up, as well as when it ruptures. But the pain can be intensified dramatically if the blister becomes infected after it ruptures, so you will want to take steps to keep the area very clean. Once a blister has popped (that is once the thin skin covering the liquid inside the wound has opened) millions of tiny bacteria that live harmlessly on the skin can now easily enter the inner layers of dermis and begin causing problems. However, if you keep the blister and surrounding skin as clean as possible during the healing process you can avoid the development of infection.
Keeping Blisters Clean Without Pain
Unfortunately, blisters can be very painful to the touch, so cleaning them is not as simple as cleaning uninjured skin. Luckily you can take precautions when cleaning a blister to make the experience as painless as possible. The simplest method of keeping blisters clean is to wash them with an anti-bacterial soap. But, if it hurts to scrub them, you could soak a washcloth or paper towel in an anti-bacterial agent and gently squeeze the cleaning agent onto the blistered area. If this doesn't seem to work, and the blister is on a part of the body where it is feasible, such as on the fingers, you can soak it in an anti-bacterial cleaner, such as hydrogen peroxide. Then, you should cover the blister with a padded bandage to further protect the area and keep out unwanted bacteria.
Preventing Blisters
To avoid the problematic task of keeping blisters clean, you can always take precautions to avoid getting blisters in the first place. By protecting your skin in this way, you will save yourself a lot of discomfort and difficulties. You likely already do all you can to avoid blisters caused by burns (including sunburns), but there are other things you can do to avoid blisters that occur for other reasons.
Blisters on the feet are the most common type of blisters people experience, and the best way to avoid these is to wear comfortable shoes that fit properly. If there is an area that steadily rubs against the skin, you should protect your skin by putting a bandage or other barrier on the skin to reduce friction. If you will be making a repetitive motion with your hands that could cause friction for extended periods of time (such as using gardening tools or other handheld items), you can protect the skin from blisters by wearing gloves. These simple tasks can make a big difference in the prevention of blisters.
Blisters can be very painful, especially when it comes time to clean them. But it is important to keep them as clean as possible so that they can heal faster and so that you can reduce the chance of infection.
You might also like...