Medical Treatments for Help With Psoriasis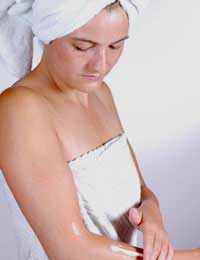 Psoriasis is a chronic skin disease that currently does not have a proven cure. This skin disorder is recognised by the appearance of red patches on the skin that are usually accompanied by itching and sometimes pain. There are five main types of psoriasis and although there is no cure, medical treatment can be used to control all five types with consistent effectiveness. The three main types of medical treatments for psoriasis include the use of topical medications, oral (or systemic) medications, and light therapy.
Topical Treatment Options
Topical medication treatment choices are available in cream, lotion, ointment, liquid and gel forms. These medications commonly include active ingredients, such as corticosteroids, vitamin-D, retinoids and coal tar, which target the itch and inflammation associated with the disorder.
Corticosteroids are applied directly to affected skin one or more times per day and are used to decrease the inflammation and reduce the itching sensation caused by psoriasis. However, these topical agents can cause thinning of the skin and other adverse effects so prolonged use is not recommended.
Vitamin-D treatments are usually applied at least twice a day and are used to slow the growth of excess skin that is present in most cases of psoriasis. Since this treatment agent should not be used on the face, and since no more than 100 grams a week should be applied, it is not one of the more popular choices for topical treatment.
Retinoids are prescribed to reduce the size and redness of psoriasis outbreaks and are applied based on a schedule set by a doctor. The most common retinoid skin treatment is marketed under the brand name Tazorac and should not be used by pregnant or nursing females, or any one with an allergy to retinoids.
Coal tar, which can be found in numerous applications like shampoos, bath oils and skin creams, is used to reduce the production of excess skin cells and help control the itching associated with psoriasis. This topical psoriasis treatment can be used once or twice a week to help control mild psoriasis or daily to manage more severe cases or outbreaks.
Oral Treatment Options
When topical treatments are not effective enough on their own, or when faster improvement is needed, dermatologists turn to the prescription of oral treatments. Oral psoriasis treatment options include oral retinoids, immunosuppressives and antimetabolites.
Oral retinoids, like Acitretin and Psoralens, are used to control the redness of psoriasis outbreaks and to control the growth of excess skin cells. Acitretin is taken as a capsule once a day until a decrease in symptoms occurs. Psoralens are only used in conjunction with light therapy and are taken orally only on days of a scheduled light therapy treatment.
Immunosuppressives and antimetabolites are given as oral doses or as injections. These medications are used to treat the inflammation, pain and excess skin growth associated with psoriasis. They work by suppressing the immune system and block the inflammation reaction caused by psoriasis. Since serious adverse effects are sometimes associated with these treatments these medications are usually reserved for hard to treat psoriasis cases or those cases that are extremely severe.
Light Therapy Treatment Options
Another, less irritating, way to treat the inflammation and excess cell growth present in most cases of psoriasis is with light therapy. This treatment, also called phototherapy, uses ultraviolet light similar to the light from the sun. The two types of light that are most effective are UVB and UVA. Although they may sound similar in process, tanning beds are not substitutes for medical phototherapy. Natural sunlight exposure, however, can be used in patients with mild psoriasis. As with any type of UV exposure, prolonged treatment can lead to the development of skin cancer so all treatments should be well monitored.
With such a wide variety of medical psoriasis treatments available, the prescribing of an effective treatment is usually easy. However, it is important to understand that not all treatments will work for all patients and that patience is always required when undergoing psoriasis treatments of any kind.
You might also like...
Wife has all 3 types of Psoriasis and Psoriasis arthritis but cannot get the Apremilastas NICE say she not worth the cost of the tablets
english couple
- 10-May-19 @ 7:12 PM