Shaving Rash and In-Growing Hairs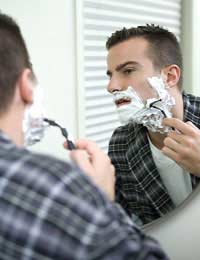 Rashes and in-grown hairs can be painful to deal with. However when the conditions occur in areas that require shaving the pain can be unbearable. Learning the ins and outs of dealing with these conditions is the best way to reduce the pain and still enjoy hair-free skin.
Shaving a Rash
There are many different situations and illnesses that can cause a rash, and the best way to avoid irritating that rash further is to refrain from shaving the area as long as possible. If, however, the rash is located in a place that must be shaved for appearance's sake (such as the face or legs during the summertime), there are ways to help heal the rash as quickly as possible as well as ways to shave the area without irritating it further or causing pain.
If you already have a rash— The best way to avoid making a rash worse by shaving, or causing pain when you shave is to use additional or different types of shaving creams or gels. Using the ones designated for sensitive skin can help reduce irritation, as well as lathering it on as thick as possible for the shave. Using a sharp razor and shaving much more gently than normal (even if this means you don't receive as close a shave) can also help reduce irritation. Applying a cream, aftershave or lotion for sensitive skin afterwards can help relieve pain as well.
If shaving seems to cause a rash—There are several things you can do to avoid a rash caused by shaving, including using shaving cream or gel that is made for sensitive skin. Another way to avoid a shaving rash is to use unscented creams and aftershaves. You can also add to your shaving regimen by using an after-shaving cream that is specifically designed to prevent shaving rash or shaving bumps. It is also important to use a new razor every time you shave, and do not use the same razor for different parts of the body. Using a different method of hair removal is also an option, such as an electric razor or hair removal creams.
Avoiding In-Grown Hairs
In-grown hairs are a very common side effect of shaving, and it occurs when the hair is cut off bluntly (as with a razor) leaving a sharp edge, and instead of growing out through the skin as it should, the hair curls and grows back into the same follicle. Some ingrown hairs simply cause razor bumps, but some are more noticeable and can become irritating and possibly painful. Those with curly hair are more susceptible to ingrown hairs, and it is possible for an ingrown hair to become more of a problem if it develops into severe folliculitis. This can happen when the ingrown hair is exposed to fungus or other bacteria, and the area becomes infected. There are three main ways to avoid in-grown hairs:
Shave in the direction of the hair growth— While you can definitely receive a smoother result if you shave against the grain, doing so causes in-grown hairs and razor bumps more often than shaving in the same direction as the hair growth. This is the best way to shave to avoid ingrown hairs no matter what part of the body you are shaving.
Use a different method of hair removal—Shaving with a razor is the biggest cause of in-grown hairs because of the way it bluntly cuts off the hair. By choosing another method, you can reduce your chances of experiencing in-grown hairs and razor bumps. There are many other options, including shaving with an electric razor, cream hair removals, and waxing. Any of these methods will reduce the likelihood of your hair growing back into its own follicle.
Prepare the area before shaving— By preparing the skin for a shave, you are also preparing the hair, and this allows you to prevent the growth of in-grown hairs. By making sure the area is clean and exfoliated, you will help to soften the hair, which can help in prevention. Another way to make the hair soft before shaving is to soak the area in very warm water for a few minutes before shaving. If you are shaving your face, you can soak a washcloth in hot water and hold it to your face for a few minutes to prepare the area.
If you are experiencing in-grown hairs, the best way to help heal them is to exfoliate the area. There is a plug of proteins that is blocking the outward growth, and if you can remove these, the hair will have a better chance of growing the way it should. One of the best types of exfoliants for this purpose is salicylic acid. Any product with this ingredient can help. If you have an in-grown hair that is very irritating, and nothing seems to help you will need to see your family doctor or a dermatologist to make sure it isn't infected (and they may have to manually remove the hair or give you medication if it is).
By taking care to prevent in-grown hairs and rashes, your shaving experience and results will be much better. If you do have a rash, whether it is caused by shaving or anything else, using proper shaving methods to reduce irritation can help the rash heal faster and make shaving much less painful.
You might also like...
This is some great information but if anyone still gets the occasional razor rash, I suggest using Razor Burn Freedom from Swedish Skin Care. I was a huge sufferer and my skin is in much better shape since I have been using it. No cotton balls or dapping which I love, it is just a quick spray and then a little rubbing in and you're good.
kate
- 25-Jul-12 @ 9:36 PM