Treatment of Pityriasis Rosacea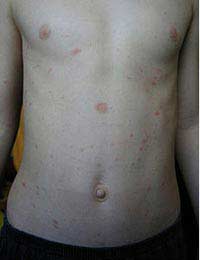 When most people think of rosacea, they think of a chronic skin condition characterized by a red face that looks like it's having a constant hot flush. Few people are aware that another type of rosacea exists, in the form of a temporary skin rash that will eventually clear up on its own.
Pityriasis rosacea is a skin rash that usually affects children and young adults, with doctors estimating that the peak age for people getting this condition is between the ages of 10 and 35. It starts with what is called a "herald" or a mother patch, or a small part of the skin that is affected.
Usually, the herald patch will appear on your back or stomach, in the form of a large patch of skin that is red and scaly, often in the shape of an oval. Within a few days this patch is followed by a large red rash, which can appear all over the body, but usually in the torso, neck, arms and thighs.
This spreading rash (from the word pityriasis rosacea, meaning small scales, and rosacea, meaning red) will eventually go away on its own. But it may take weeks – or up to two months to do so. Interestingly, this rash will never affect the soles of the feet or your palms, so if those areas are affected, you no doubt have something else. Also, while the rash can take on a random appearance, it often takes on the appearance of tree branches on the back.
Making the Right Diagnosis
It can be hard for us mere mortals to diagnose a skin condition, which is why if you suspect you have pityriasis rosacea, it's important to see your GP at once. In most cases your GP will able to make a correct diagnosis immediately, although in some cases a referral to a dermatologist might be necessary.
Doctors are still not 100 per cent sure why this rash develops, or what the cause is. They seem to have ruled out a fungus or infection as the cause, but think it may be due to a virus, particularly a herpes virus, which also causes chicken pox and shingles. That would seem to make sense, as the rash is usually accompanied by intense itching, especially if the sufferer becomes unduly hot.
Funnily enough, however, pityriasis rosacea is not contagious. It also virtually never leaves permanent scars, although people with dark skin who scratch a lot may notice some usually temporary pigmentation changes, and scratching can cause other skin damage as well. It does, however, occasionally disappear to reappear soon later, so you may not be free of it 100 per cent unless it disappears for a considerable period of time.
What to Do
Most people are treated for pityriasis rosacea in the same way they are treated for chicken pox, with antihistamine tablets and anti-itch creams or lotions such as calamine. In very severe cases your doctor might recommend ultraviolet light treatment or steroid creams, but usually this is not necessary.
Unfortunately, the best way to see this rash out is through patience. Avoiding activities which can make the itching worse, such as a hot bath or sauna, is recommended. Apart from that, it's just a case of waiting to get better and trying not to scratch. Good luck!
You might also like...