Doctors Thought My Wart Could Be Skin Cancer: Case Study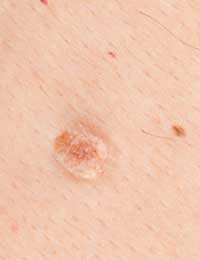 When Laurel Lewis got pregnant, she began developing several small growths on her back. Concerned about what they could be, she made an appointment to see her GP.
The GP quickly reassured Lauren, who didn't want her real name used, telling her the growths were nothing dangerous. In fact, they were actually completely benign, although they looked unsightly – to Lauren at least.
"She said they were seborrheic keratoses, which are also known as middle-aged warts, which isn't a very nice name!" said Lauren, now 47, who is a university lecturer based in London.
"They're described as barnacle-like lesions, and that's what they are – they look completely stuck on the skin. I only had a few and didn't really like them, but as the GP said they were nothing to worry about, I stopped worrying."
Second Pregnancy Worse
When Lauren got pregnant for the second time a few years later, she developed even more of the keratoses. "I had been to the hospital and had two large ones shaved off, as they were itchy and bothering me, and thought that was the end of it.
"Then, very quickly in fact, I developed more. I went back to my GP who said they usually caused by genetic factors, but are often exacerbated with hormones, which means that my pregnancies could be setting them off.
"I wasn't very thrilled about the idea of having them and nobody else I knew had any – except for my dad. Still, I had two healthy babies so I thought a few barnacles wasn't a bad price to pay."
Third Time Unlucky
But when Lauren got pregnant for the third and last time, her skin went haywire. "I suddenly developed a lot more, this time not only on my trunk but also on my neck. That made me feel very self-conscious.
"I also had quite a few seborrheic keratoses underneath my breasts, where my bra fastened. They began to itch and hurt a bit when I wore my bra, so I made an appointment with the GP to get a referral to have them removed.
"I expected everything to be completely straightforward, just like the first time, but I was wrong."
Mimic Melanomas
Because of their appearance, seborrheic keratoses can mimic the appearance of melanomas, or dangerous skin cancers.
A melanoma may turn black, change colour completely or bleed, which is a sign it's potentially dangerous. But a seborrheic keratosis, when irritated by something like a bra strap, can do the same thing.
"When I went to the hospital the doctor said they weren't sure what they were removing, and so she wanted to do a biopsy on a big 'wart' on my back that had been constantly rubbed by my bra and looked sore and darker than the others," Lauren recalls.
"The word 'biopsy' suddenly set off alarm bells, and when she was done I phoned my husband in a panic.
"He told me not to worry, but the next few weeks were agony. A friend of mine had had skin cancer, so by that time I was convinced I did too."
Keeping an Eye on Things
Lauren was on tenterhooks waiting for word from the hospital about the biopsy. "By the time the letter came saying everything was all right, I just broke down," she says.
"I had tried to put it out of my mind, but the worry was always there, and I had kept looking at my three girls wondering how they could ever cope without their mum."
Lauren was told to keep an eye on the keratoses in case they really were something else, and to report back to her GP in case anything looked dodgy. And if any were especially itchy or uncomfortable, she could make an appointment to have them removed, although the NHS wouldn't remove one for purely cosmetic reasons alone.
"I now have even more, and although I hate having them it's a lot better than actually having skin cancer," Lauren says. "I just hope my daughters don't get them as well, as genetics can play a big role in who has them and who doesn't."
You might also like...
I am 67, my breasts, although I weigh 10st at 5 ft 7 " have developed warts under the crease where my skin joins my chest. My GP is not prepared to treat these warts. I have anti fungal cream to use twice a day, as she says I have this, but ...the warts are causing the irritation..I have not warn a bra for months, and I really need to see a dermatologist , but my GP will not refer me...what do I do next please..anyone, your advice...I am desperate