I Had Laser Therapy for Scarring: Case Study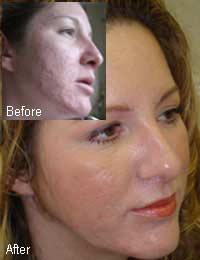 Natalie Shaw suffered from cystic acne from the age of 12, but it was a good 20 years before she sought help to deal with the deep facial scarring she had been left with.
"I had tried everything to treat the condition, but even when my acne improved, one of the long-term side effects was the scarring," says the 34-year-old massage therapist from Enfield, north London.
"Even if the condition itself gets better you are left with horrible scars. I had what you call ice pick scars, and they are really quite deep.
"It really affected everything, including how you feel about yourself. It makes you feel that when someone is looking at you, they are only looking at your scars.
"I never wanted to plan anything as I never knew what my skin was doing on any given day. It affected my relationships and socialising and my self-esteem suffered as well."
The Laser Option
Natalie said that when she hit 30 the acne improved, although it's still something she has to live with as it flares up from time to time. The biggest improvement, however, came not with age but with laser treatments.
Friends told Natalie how lasers could help improve the appearance of acne scars, including deep ice pick scars, so she decided to find a clinic that offered specialist treatment.
"The Private Clinic of Harley Street in London just happened to be one of the first ones I saw when I did a google search, so I made an appointment and had a consultation," she said.
"I was treated with the Pixel laser first, then the Pearl laser, with Dr. Puneet Gupta. I also had some skin grafting for the deeper scars, when they took pieces of skin from behind my ear. They used a local anaesthetic so it didn't hurt, in fact the lasers were more painful than the skin graft."
Marked Difference
Natalie had six treatments with the Pixel laser and two with the Pearl laser, and says there has been a "marked difference" to the skin on her face.
"Don't get me wrong, there are still a few scars but nothing like before," she says. "It's amazing. Before I used to spend half an hour putting on make-up, now I do it in five minutes."
The Pixel laser works, she says, by burning through two or three layers of skin, while the Pearl laser burns through five or six. "You are gouging the skin and encouraging collagen to produce, so it's a bit like erasing scars with an eraser.
"With each treatment, everything is just a lot softer. Plus you have the added bonus of collagen production, which helps with fine lines and wrinkles, and carries on working for six months."
"Not Cheap" But Works
The cost, she says, depends on how many treatments you need, and how big an area needs to be treated. "A full-face treatment costs about £400 - £500 for one session, then the smaller bits cost about £100 - £200 per session," she says.
"It's not a cheap treatment but it works. It is not money going down the drain or I would not have gone back to have more."
Natalie has stopped her treatments as she is "really happy" with the way her skin looks now. "I might have more treatments again in future but maybe just because it's a good rejuvenation for the skin, not really for the scarring," she says.
"I feel so much happier now, it feels like a ball and chain have been taken off from around my neck. I feel better about myself and can plan things in future now, where before I was scared to plan anything. It really has changed my life."
You might also like...