Is there a Treatment for my Boyfriend's Skin Problem?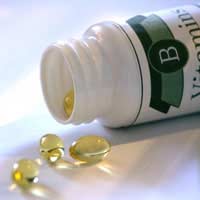 Q.
My boyfriend develops very dry weeping skin patches on his hands in cold weather (and when stressed) and uses prescribed cream which manage it a little. However, he is now suffering terribly with tight, dry, itchy lips. The skin around his lips is bright red and irritated, and the corners of his mouth are splitting.
This has now started to occur around his eyes also. The doctor prescribed yeast infection cream for his lips, and then suggested Elizabeth Arden 8-Hour lipsalve...both to no avail. He is desperate to clear this up. I have read that Vit B2 deficiency can cause this. Is this likely? And is there a good, quick topical treatment?
(Miss Louise Adlam, 11 November 2008)

A.
While a vitamin B deficiency can cause tight, dry, lips that are also red, irritated and splitting this symptom is not really common. Vitamin B deficiency can cause mouth sores and irritation of the tongue but the condition does not usually affect the skin around the mouth or eyes.
Causes of Irritated Skin
Although not common you shouldn't rule out a vitamin B or Folic Acid deficiency. Your boyfriend would need to a doctor for a diagnosis but in the mean time he can try adding foods rich in vitamin B and folic acid to his diet to see if the additions help clear up his skin problem. Foods such as dark green leafy vegetables, liver and organ meats, nuts and seeds, enriched grain products, and orange juice are all high in folic acid and vitamin B.
Food allergies, especially if your boyfriend wipes his eyes after preparing food, can cause weeping patches of irritated skin. A dermatologist or allergy physician can test your boyfriend for allergies but you may want to start a symptom journal is you suspect this may be the cause. Simply spend two weeks writing down any foods that your boyfriend handles or prepares and note whether his symptoms because worse or better after exposure.
The same can be true for other types of allergies, such as those to detergents, lotions, lip balms, shampoos, and soaps. The skin around the eyes and mouth is usually thinner and more susceptible to irritation. Make sure that you include these types of product in your symptom journal.
Your boyfriend could also be suffering from a medical condition called candidiasis. This is a fungal infection as opposed to a yeast infection. In some instances the condition is caused by both a fungal and bacterial infection. For successful treatment your boyfriend will need to see a doctor who will most likely prescribe him a combination therapy that includes both a topical ointment and an oral medication. The topical medication will help treat the infection on the surface of the skin while relieving some of the symptoms. And, the oral medication will treat the entire body, ridding the system of harmful bacteria.
Although there isn't a quick fix to your boyfriend's skin problem it is important that he seek treatment before the condition worsens.
You might also like...