How do I Get Rid of Shaving Spots?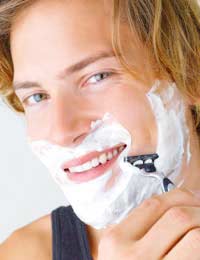 Q.After every shave I get white spots on my chin and lower cheek areas, it is very discomforting. Do you have any suggestions?
(Mr T Fennessy, 8 October 2008)

A.
Shaving spots are raised, and sometimes painful, bumps that appear on the surface of the skin after shaving. These spots are also called shaving bumps or razor burn and are caused by the newly cut (and sharpened) hair curling back and penetrating the skin. Once the hair strands penetrate the skin inflammation occurs and results in swelling which can also be accompanied by redness, tenderness, and sometimes infection.
To get rid of shaving spots you first must hold off on shaving again until your skin clears up. In order to speed up the healing process you can try out the following tips.
Loosen the dead skins cells that are holding onto the trapped hair by exfoliating the skin. NEVER scrub irritated skin, but you can softly remove the cells with a gentle exfoliating cream or a damp washcloth. Simply move the cloth or cream over the irritated area with just gentle pressure from your fingertips in a circular motion.
Once the skin is clean apply Epson salt to reduce the swelling and irritation. Dissolve a half of a cup of Epsom salt in boiling water and allow it to cool. Then soak a clean washcloth in the mixture and apply the cloth to your skin. Allow the cloth to rest on the skin for 10 to 15 minutes. Rinse the skin thoroughly with lukewarm mater.
Pat your skin dry and then apply a soothing lotion that contains tea tree oil or aloe vera. These ingredients will help reduce the swelling and discomfort and speed the healing process. You can also use a cream, moisturiser, or lotion that is specially formulated to treat shaving spots since these products will usually contain tea tree oil or aloe vera and other soothing, hydrating, and moisturising products. Some of these products will also contain a numbing agent such as lidocan that will help reduce the pain associated with razor burn. Never apply anything that contains alcohol or an astringent to irritated skin.
Finally, avoid touching the irritated area after treatment. Rubbing, scratching, or picking at the shaving spots will only further irritate the skin and slow down the healing process.
You might also like...