Basal and Squamous Cells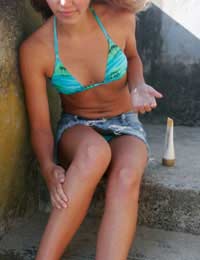 Although the terms basal cell and squamous cell may be unfamiliar, you probably know more about these cells than you actually think. Basal cells and squamous cells are skin cancer cells. These two types of abnormal skin cells comprise the majority of skin cancer cases and are known as the two most common types of skin cancer. However, of the two, basal cell carcinoma (or skin cancer) is much more common.
What Causes These Cells to Develop?
The number one cause of skin cancer, which includes basal cell and squamous cell carcinomas, is exposure to UV (ultraviolet) radiation. Emitted in two forms, UVA and UVB, by the sun this light can damage skin cells and foster the growth of abnormal, or cancerous, cells. However, exposure to direct sunlight is not the only cause of this disease. The use of tanning beds and sun lamps can also lead to the development of skin cancer since these machines also transmit UV radiation.
Although continued exposure to the sun or to UV radiation greatly increases your chances of being diagnosed with skin cancer, just one severe sunburn is all it takes to damage your cells and increase your risk for developing this serious skin disease.
Symptoms
Since skin cancer is 100% curable if caught early, you need to check for symptoms of the disease on your skin regularly. The best way to do this is to stand in front of a full length mirror while you are completely nude. Then, examine every inch of your skin for changes or new growths. If you do this regularly you will more readily be able to identify changes from one examination to the next. To help ensure that you catch every change it is best to first find out exactly what you are looking for.
Basal cell carcinoma is most commonly found on the face and neck but it can develop on other parts of the body, especially parts that are routinely exposed to the sun. The first signs of this skin cancer usually appear as small bumps on the skin. These bumps can have a smooth, waxy, shiny, or pale appearance, but can also develop in the form of a hard, red bump. Aside from lump type symptoms, these abnormal skin cancer cells can also appear as small, raised sores, scar-like changes, and eczema-like rashes on the skin.
Squamous cell carcinomas also are most commonly found on the face and neck but can also appear on the hands, arms, and scalp. This skin cancer is usually recognised by the appearance of a scaly patch on the skin. As the disease progresses this patch can develop sores that eventually turn into tumours.
If you discover any type of abnormal growth or skin change during a self-examination, whether it is the appearance of a bump, scaly patch, changes in a mole, or any type of skin discoloration, you need to see a doctor or a dermatologist right away. Although treatment type varies depending on the type and location of the skin cancer, early treatment is necessary to bring about a cure.
Treatment
For both types of common skin cancer, basal cell and squamous cell, the first line of treatment is a biopsy. To perform a biopsy the doctor will surgically remove an area of the skin that is abnormal. Then the skin sample will be examined under a microscope for the presence of cancer cells.
If cancer is present the entire abnormal area can be surgically removed or the tumour can be treated with heat and scraped away, frozen with nitrogen, or exposed to radiation.
Prevention
Although early detection results in a cure, the best way to deal with skin cancer is to avoid getting it in the first place. Start by avoiding the use of tanning beds altogether. Then, make sure that your skin is protected every time it is exposed to natural sunlight. Wear long sleeved shirts, hats, and gloves when you will be working or playing outdoors for extended periods of time. If more clothing is not an option, be sure to apply a sunscreen with a protection level of at least 15 to all exposed body parts. Finally, limit sunlight exposure during the hottest hours of the afternoon since this is when the UV radiation is at its strongest.
You might also like...