Skin Cancer - Who is at Risk?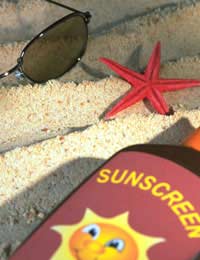 Each time that you step outside to enjoy some activities under the warm sun you probably think about sunburns and skin protection. After all most people are fairly knowledgeable about the increased risk for skin cancer that just one severe sunburn can cause. However, in order to better protect yourself and the ones you love against this preventable disease you need to be aware of all of the common risk factors.
Risk Factors
Aside from the occasional sunburn you may experience as an adult, there are numerous other factors that can increase your risk for developing skin cancer. The following seven factors are the most common and the most important factors to know about and understand.
Excessive sun exposure. The use of indoor tanning devices or the practice of lying out in the sun to get a tan greatly increases your chances of developing skin cancer, especially if this exposure is long-term and frequently repeated.

Childhood sunburns. If you experienced more than one serious sunburn as a child your chances of developing skin cancer later in life are greatly increased.
Skin color. People with fair, or light colored skin, have a greater chance of developing skin cancer than dark skinned or Hispanic people. This is especially true for light skinned people with freckles or those that burn very easily.
Family history. If someone in your family has been diagnosed with skin cancer your chances of developing the disease are higher than average.

Where you live. People who live in warmer climates that enjoy extended hours of sunlight each day also have a greater chance of developing skin cancer due to increased sun exposure over time.
Career choice. People who work outdoors, like farmers, construction workers, and lawn care specialists have an increased risk of developing skin cancer since they are more frequently exposed to direct sun light for longer periods of time.
Certain skin conditions. People with skin moles are more at risk for developing this disease. This is especially true if the moles are irregular in shape or uneven in color. Those who suffer from nonhealing skin ulcers, skin nodules, or psoriasis also have an increased chance of developing skin cancer.
Lower Your Risk
Now that you understand the common risk factors you can begin working on reducing your chances of developing this disease. The most effective change that you can make is to limit your sun exposure. When you will be out in the sun for an extended period of time, wear a hat, a lightweight long sleeved shirt, and apply a sunscreen with an SPF (sun protection factor) of at least 15. Also avoid the use of tanning booths and suntan oils that increase the effects of UV sunrays.
Next, review your current health. If you smoke quit. Smoking increases your chances of developing squamous cell skin cancer. If you suffer from psoriasis, reduced immunity due to an organ transplant, or are undergoing radiation treatment for another type of cancer your risk of developing skin cancer is greatly increased. Talk to your doctor about these conditions and what you can do to further protect yourself against skin cancer.
Finally, check the warnings on your prescription and non-prescription medicine bottles. Many drugs, such as birth control pills and acne medications, cause sensitivity to the sun that can increase your chances of experiencing severe sunburn. When on these medications take extra precautions to protect your skin while you are outdoors.
Check Your Skin Regularly
Even after you have taken every precaution it is best to keep an eye on your skin for any changes that could indicate skin cancer. Once a month examine your skin after you have taken a shower. Check every area of your body using a full length mirror to check for suspicious looking moles, moles that have changed in size or color, changes in skin color or texture, or any new nodules on the skin. With an effort towards prevention you can decrease your risk of developing this disease and still enjoy your time outdoors.
You might also like...