AKs and Other Precancers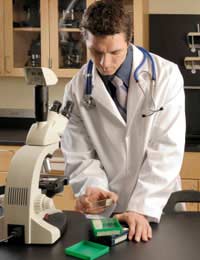 Skin cancer is a serious yet curable disease that fortunately presents with recognisable early warning signs. Among these warning signs is the presence of an abnormal skin growth. These abnormal skin growths are not usually malignant, but they do harbor a greater risk of becoming cancerous than normal, healthy skin cells. By understanding these growths, also known as AK's and pre-cancers, and learning to recognise them you learn to detect the signs of skin cancer and eliminate its development.
Actinic Keratosis
AK's (actinic keratosis) are growths that appear on the skin as a result of overexposure to the sun. These growths, also called solar keratosis, are most common on the areas of the body that are more frequently exposed to ultraviolet rays, such as the neck, face, scalp, ears, shoulders, back, hands, and arms. Actinic cheilitis is a form of AK that appears on the lips. This growth results in the drying, cracking, and whitening of the lips and usually affects the lower lip more frequently than the upper lip. These abnormal skin growths are usually recognised by their rough and scaly appearance and are usually felt before they are actually seen. While the coloring of an AK can vary, they can present as skin colored, tan, red, or even pink in color, the feel of the growth is almost always rough, crumbly, or horny. Although these growths can also itch, be tender to the tough, bleed, or become inflamed, they are usually painless and non-problematic.
Most AK's develop and grow very slowly, usually reaching only 4mm after a long period of time. However, during development it is not unusual for these skin growths to disappear and then reappear in the same spot. Like other pre-cancerous skin growths actinic keratosis can be treated before skin cancer develops.
Other Pre-Cancers
There are three other types of pre-cancerous skin growths (Bowen's disease, arsenical keratosis, and leukoplakia) that need to be addressed when discussing the early warning signs of skin cancer. Of the three, arsenical keratosis is the least common. This form of pre-cancerous growth is caused by exposure to arsenic and has declined in development since the damaging effects of arsenic in industrial, environmental, and medicinal applications have been discovered. This pre-cancer presents as small corns on the soles of the feet, palms of the hands, or inner skin surfaces of fingers and toes. Yellow in color, these growths thicken as they develop and may multiple in number.
Bowen's disease, however, is a common type of pre-cancer that resembles eczema or psoriasis in appearance. The growth is usually scaly in appearance and reddish brown in color. Since the growth is superficial it can be treated more easily and is less likely to develop into cancer if caught and treated early.
The last pre-cancerous growth, leukoplakia, is found in mucous membranes and are caused by repeated irritation to these areas. Usually seen on the tongue, the inner lining of the cheeks, or in the mouth, this pre-cancer can be caused by the membranes exposure to rough tooth surfaces, loosened fillings, the use of chewing tobacco, and smoking. Leukoplakia is more commonly recognised by dentists and can be treated effectively if caught in the early stages of development.
Treating AK's and Other Pre-cancers
All AK's and pre-cancer can be treated, however the type of treatment that your doctor may choose depends on the type of growth that you have, its size, location, and risk for malignancy. Common treatment choices for AK's and pre-cancers include cryosurgery, the application of topical medication, desiccation and curettage, laser surgery, and chemical peeling. Cryosurgery, which involves the application of liquid nitrogen, is the most common form of treatment. The nitrogen is applied to the growth to freeze the affected tissue so that it dries up and falls off. This technique is highly effective at eliminating pre-cancerous growths but can cause some inflammation, swelling, and loss of skin pigmentation at the site of treatment.
Topical medications, such as a cream application of 5-fluorouracil or imiquimod cream, are used to breakdown the growth and its cells over a period of time. These medications are applied at home according to a doctor devised treatment schedule. This pre-cancerous treatment technique is highly effective and rarely leaves scarring, however it can cause inflammation and discomfort of the skin.
For smaller growths, or those bedded deeper in the skin, laser surgery is a common choice. In this procedure a laser is aimed at the AK or pre-cancer in order to eliminate the abnormal cells and surrounding skin. This procedure is done under a local anesthesia and carries few side effects.
Finally, for superficial or smaller growths, chemical peeling can be very effective. With this technique trichloroacetic acid is applied to the skin to remove the top layers of skin and the pre-cancerous growth. As the area heals abnormal skin cells are replaced with new, healthier ones.
Since the treatment of AK's and pre-cancer is usually simple and effective it is best to catch and treat these growths before they have time to develop into a more serious condition.
You might also like...