Capers Cream Cured My Rosacea: A Case Study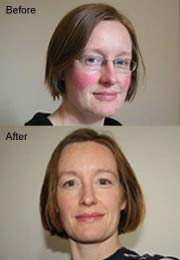 Nobody expects to start getting acne in their late thirties, but that is what happened to Kate Sington, 43, in the aftermath of her son's birth four years ago.
Kate, a full-time mum to two young sons aged four and 14 months, always had good skin, although she is quite fair and used to blush easily when younger.
"I'd also flush a rather becoming shade of pink as soon as I touched alcohol, even after just one glass of champagne, but I put it down to a healthy glow rather than any underlying problem," says Kate, who's from Fife in Scotland.
"But generally I was always considered to have lovely clear skin and was much admired for it, so I was mortified when, aged 39, I started developing ugly spots across both my cheeks and my nose.
"Not only did I start getting spots, my cheeks and nose started getting redder. This wasn't occasional blushing, but more a permanent and unsightly redness that made me look flustered and puffy all the time."
More than Hormones
At first, Kate thought it was because she was pregnant and that her hormone levels were changing as a result. But when the spots and the redness remained after she had given birth, she realised that something serious was happening to her skin.
"I went to see a dermatologist as I was feeling mortified by my appearance and I was diagnosed with the skin condition rosacea," she says.
Rosacea affects 1 in 10 people in the UK and is most common in women aged 30-50. The varied symptoms can include skin redness, flushing, sensitivity, inflammation, pimples and dryness. Triggers can be the sun, coffee, spicy food, alcohol, stress and embarrassing situations.
"I was told that the condition was likely to get worse and that there wasn't a definitive 'cure', only antibiotics to manage the symptoms. There is one thing feeling frumpy and overweight after having a baby, but quite another having a red face covered in bumpy spots.
"I felt that, in a few months, I had lost both my figure and my looks and I suddenly felt old and unattractive. It affected my self-confidence about socialising, and I became less inclined to go out and meet friends and was quieter and more withdrawn than usual.
"I even started dressing in a more sombre fashion in dark colours that didn't draw any attention to me."
Kate also became worried that just a few sips of alcohol would make her skin redder. "I felt as though everything I enjoyed in life was causing my skin to get worse. I felt had an affliction which meant I couldn't enjoy life as much anymore; it all seemed very unfair."
Turn for the Worse
Not used to feeling sorry for herself, Kate tried to get on with being a good mother rather than thinking so much about her skin. But when she became pregnant with her second son, her skin took a turn for the worse.
"This time there was no one telling me how lovely I looked or how I was glowing with health. I imagine I just looked frightful."
Kate tried various creams and treatments, but the effects ranged from minimal to nothing at all. Then coincidentally, both her mother and sister sent her newspaper cuttings about a new product containing capers that claimed to reduce redness.
KALME is a new skincare range containing an extract of capers. In clinical trials, it has reduced skin redness and sensitivity by 70 percent. The range does not contain steroids or chemicals, but is made from naturally active ingredients that have been clinically certified for use on highly sensitive skin.
"I was naturally rather cynical but I was always willing to try something new at least once for my rosacea, as I was rather naively hoping for a miracle," she says.
"The caper cream was immediately lovely and smooth to use, with no fragrance, didn't irritate my extremely sensitive skin, nor was it sticky or drying in any way.
"I noticed a difference in the redness and bumpiness of my skin within ten days. After almost a year my skin is now virtually clear and the tone and texture of my skin is also greatly improved.
"To say I am delighted and surprised by the results is an understatement. Although rosacea is not a life-threatening condition or anything, it is a condition that is very visible and is deeply upsetting for people who have it.
"I'm so convinced by the effect the caper cream has had on my rosacea that I have even started eating capers regularly, which I don't particularly like.
"I believe that if I eat the ingredient that works so well on my skin from the outside, using it from the inside too will mean I am sure to see even better results."
You might also like...