Preventing Fungal Skin Infections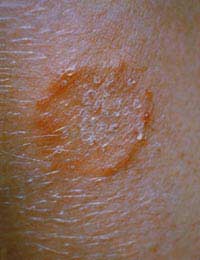 Fungal skin infections can be unpleasant, but with the right treatment they usually clear up fairly easily. Sadly, some of us are prone to get them again and again, without really knowing why.
Doctors say that some people are just more likely to get fungal skin infections, like some people are more likely to pick up a nasty cold, or be susceptible to allergies. In fact, the tendency for adults to get recurring fungal skin infections on the feet and toenails is actually genetically programmed. That's because the skin cannot get rid of it easily because it doesn't recognise the invading fungus as something foreign.
The good news is that there are things you can do to prevent a recurrence of fungal skin infections, and help keep those incidents at bay. While there is no guarantee that you'll never get a fungal skin infection again, you can reduce the likelihood of this happening by taking the right precautions...
Types of Fungal Skin Infections:
Affecting the skin, hair and nails, fungal skin infections will result in scaly patches of skin or flaky, yellowed nails. They are caused by fungi that are attracted to moist warm environments, and often are confused with other skin conditions such as eczema and dermatitis.
There are several types of fungal skin conditions, know medically as "tinea". Some types of tineas run in families. Here are the most common types:
Tinea Paedia (athlete's foot): Affecting only humans, this infection rarely is seen amongst children. It occurs as the foot is a warm, often sweaty area in which fungus love to thrive. Wearing sweaty socks and plastic shoes that do not allow your feet to breathe will contribute to this condition.
Tinea Unguiuim (nail fungus): Hard to get rid of, this usually affects the toenails and is common amongst people who also have athlete's foot. The nail eventually will turn yellow and break off. Rarely are fingernails affected.
Tinea Cruis (jock itch): More common in men than women, this gets its name from athletes who often have sweaty groin areas, where fungi are likely to congregate. More common among men who also have athlete's foot, it produces a red border in the groin area that is itchy and unpleasant.
Tinea Corporis (ringworm): Not really a worm at all, this infection can be anywhere on the skin, forming a ring. It can be spread through human-to-human contact and you can also catch it from an infected dog or cat.
Tinea Capitis (scalp ringworm): This can result in patches of hair loss which will eventually grow back, although with a kerion, or inflammatory scalp tinea, you may need special medications to prevent permanent hair loss.<
Preventing Recurrence of Infections
As mentioned, fungi thrive in hot, moist environments, which is another reason they spread so quickly and easily from one person to another. Sharing combs, towels and flip flops is one way to spread a fungal infection.
Luckily, there are ways to get rid of fungal skin infections fairly easily, usually by using a special anti-fungal shampoo or cream, or taking a medication designed to eradicate the problem.
You can help stop the little critters from coming back by:
Having proper foot hygiene, including washing your feet daily and making sure they are completely dry before putting on footwear of any kind.
Wearing only breathable shoes (not plastic) and 100 per cent cotton socks.
Wearing flip flops (or the equivalent) in public places such as locker rooms and public showers, where the environment is moist and humid.
Wearing only loose-fitting cotton underpants if you are prone to jock itch or yeast infections of any kind.
Not lounging around in wet swimming costumes.
Washing all bed linen regularly to get rid of any fungal spores, and washing all linen and any clothes that have touched the head in a hot wash if anyone in your family has scalp ringworm.
Fungal skin infections are not the end of the world but they can make life miserable for a time. Know what they are and take steps to prevent those little fungi from flourishing – you can do it!
You might also like...
I am suffering from fungal infection, it has gone althrough my face, the redness, ictichiness. Please help....
Ships
- 28-Jan-18 @ 9:06 AM
Use following medication for Jock itch fungal . Valbet cream Atarax 10 mg tablet One can 150 Fluconazole tablet My doctorprescribed it n it worked well. Make sure you keep area dry as given in article.
Samppp
- 25-Oct-17 @ 9:52 AM
Hello I m suffering from a fungal infection around my both thigh for 6 month. Please help me, advise what to do
Sam
- 18-Jul-17 @ 2:27 PM
I am suffering from serious fungal infections please help me
Modi ji
- 17-Jun-17 @ 8:37 AM
i am suffring this problem last 6 month nd i am so worried to take this problem so tell me good medicene nd suggestion .i shall thankfull to you
rahul
- 31-Jan-17 @ 12:36 PM
I agree with your post. Due to sweating or plastic shoes causes fungal infection.
Anna
- 17-Sep-13 @ 8:38 AM
this information has been a big help
jet4446
- 18-Jun-13 @ 6:55 PM