Eczema in Children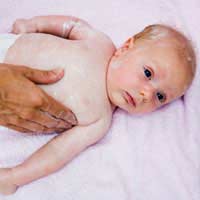 Eczema also known as atopic dermatitis, is a common skin condition that first occurs in children ages two to six months of age. While there is no known cause for the condition, medical professionals do know that it is not contagious and that it starts to clear up or reduce in severity by the time a child is five or six years old.
Since the condition first presents as a rash on the skin that is accompanied by itching, it is important to understand the symptoms of eczema so that proper treatment can be utilised and so that the condition is not misdiagnosed.
Is it a Rash or Eczema?
Rashes and eczema are similar in the fact that they both present with red, itchy areas on the skin. However, in the case of eczema this rash is also accompanied by small bumps and dry skin. Also, unlike a rash that can occur on any part of the body, eczema usually first presents on the cheeks, scalp, or forehead of a child. Once the eczema rash is established it can then spread to the rest of the body.
Another way to differentiate between a rash and eczema is to watch the severity during treatment. Since an irritant directly causes a rash it will heal up rather quickly with medicated creams. Eczema, on the other hand, does not respond well to regular rash medications and needs a treatment of its own for true improvement.
Since distinguishing between a rash and eczema is tough, it is best to get the opinion of a medical professional, especially if the area is not responding to initial treatment.
Getting a Diagnosis
Since eczema is considered a hereditary condition, if you or another family member suffer from it then your child probably will too, the first step in making a correct diagnosis is a complete medical history. Aside from this your doctor will also want to examine the rash to look for eczema indications.
When examining the rash the doctors will look at the appearance of the rash, the area the rash first appeared, and the severity of the rash. He or she will also look for signs of dry skin and skin scaling. The doctor will also ask how long the rash has been present to rule out temporary rashes caused by common irritants. Finally, he will look for the indication of lichenification- a thickening of the skin that is common in eczema sufferers.
In some cases the doctor may also order blood tests to rule out other medical conditions or allergies before dispensing a diagnosis of eczema. Once eczema is determined, however, treatment can begin.
Child Friendly Treatment
Treatment for eczema in children is different than treatment for adults. Children have thinner skin, more sensitive skin, and a greater chance of suffering side effects than adults do. Because of this childhood eczema treatment is usually milder and less aggressive. Common treatment options include the use of a topical cream and the use of steroid cream. Topical creams can include common skin moisturisers like Lubriderm or Eucerin cream that work to hydrate and moisture the skin. These creams help reduce the appearance of dry skin and skin scaling but they do not treat the itch symptom or heal the outbreak.
Medicated topical creams, like those with anti-itch medications, can help treat more of the symptoms but they will not clear up the condition. For effective eczema control a steroid cream is needed.
Steroid creams, those prescribed by the doctor, are sold under brand names like Artistcort and Cutivate, and contain steroids. These creams can clear up the outbreak of eczema rather quickly, but they do not control the symptoms during healing.For the most effective treatment many doctors recommend an application of steroid cream immediately after a bath and then a follow-up application of topical cream to help relieve itching.
Childhood eczema treatment is very effective but in order to avoid the pain of flare-ups in the first place it is best to look towards prevention.
Looking Towards Prevention
Preventing the occurrence of eczema isn't completely possible, but by avoiding things that can trigger outbreaks or worsen the severity of them, you can help keep your child's skin healthier.
Common eczema triggers include allergy irritants like pollen, animal dander, and mold, food allergies like those to dairy products or acid vegetables, environmental changes like excessive heat or dry air, and chemical allergies like those from harsh soaps or detergents. By limiting your child's contact with these irritants you can improve their condition.
By understanding the symptoms, triggers, and treatments of this skin condition you can better help your child deal with the discomfort of eczema.
You might also like...
It's a crazy miracle product.. […] Thanks for curing me from herpes..____________________R*o*b*i*n*s*o*n*b*u*c*k*l*e*r [*y*a*h*o*o* c*o*m*]].....
Suzannah Weiss
- 8-Jul-22 @ 11:00 PM
Hello, my name is Simon, son of Geoffrey. Geoffrey is an 85 year old retired carpenter who has suffered from persistent eczema and psoriasis on his legs all his life. Over the years he's just about tried everything to relieve it, from the,allwithout much success. He was resigned to the fact that he would have to suffer with and be self-conscious about, this distressing skin condition for the rest of his life. That was until one Christmas when I had made him the 'joke gift' of an 'anti-ageing skin cream' I had made that contained a mixture of essential oils renowned for their skin-rejuvenating properties. I bought the high quality base cream from a wholesale supplier and, using my knowledge of aromatherapy and essential oils, added plant extracts that have a long-held reputation of smoothing out wrinkles and improving the health and appearance of the skin. The Christmas Present that Changed his Life On Christmas day, when my old dad unwrapped the 'anti-wrinkle cream' we all had a good laugh and I had a vague idea he might use it as a shaving cream or for his hands after he had been working on his allotment.Unknown to me at the time, instead of massaging it into his wrinkles, he started applying the thick, rich cream onto a patch of Psoriasis on his lower leg that had been there for decades and resisted all other treatments. Now you have to understand that my dad is of the 'old school'. A block of soap and some aftershave is all he every used by way of toiletries.He's also the most sceptical man on the earth when it comes to dubious claims made by face cream manufacturers and that suspicion has rubbed off on me. Probably out of sheer desperation, he rubbed the cream into the affected area day and night for several weeks (one pot goes quite a long way!) until one day, completely out of the blue,he happened to mention in conversation that his skin was looking and feeling a lot better. Now I've seen my fathers Psoriasis occasionally and, to be honest, it wasn't a pretty site. The skin was red, inflamed, dry and flaky but, with an incredulous smile on his face, he lifted up his trouser leg and the area where his Psoriasis had formerly been, looked completely normal and healthy. As I said before, my father has always been very suspicious of so-called 'alternative' treatments such as aromatherapy, so I was fairly certain there was no 'placebo effect' (the belief that something will work makes it work regardless of it's actual effectiveness) at work here but I can't say I was surprised that it works. This combination of essential oils and vegetable oils seems to be working on others too. I sent a pot to one man who had 90% psoriasis coverage due to stress. He's now down to 2% and falling. Several other testers have also reported back to me that it has been su
Simey
- 20-Apr-15 @ 5:59 PM
When my son who is 12 suddenly got eczema (we were all shocked by this as no-one else in the family has it) I took the natural approach to dealing with it and used a cream intended for babies which is made by mama nature. My husband and I noticed an improvement after only a couple of days. His eczema is now well under control through using this cream and some dietary changes and in my opinion an alternative approach is often the best one.
JRobb
- 22-Mar-12 @ 5:26 PM
Great Website.Very informative.Thankfully there are natural cures for eczema.
Eczema Babies.info
- 14-Sep-11 @ 9:55 AM
I got a new dog a few weeks ago.Now my son has exzema could this have some reason why. Thanks Lynn