Medical Treatments for Eczema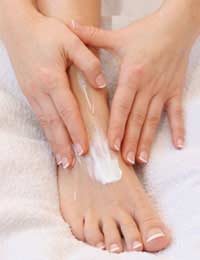 Eczema is a non-contagious skin condition that causes severe itching inflammation, and sometimes pain at the site of a breakout. Currently a cure for this disease is unavailable; however, many types of effective eczema treatment do exist. Before a doctor can determine which type of treatment is best he must research the individual symptoms of each patient. Treatment plans are usually based on the type of eczema that is present, the severity of the condition, a patient's medical history, and the outcome of any previously tried treatments.
Matching Treatment to Symptom
Controlling the most bothersome symptoms of the disease is usually the primary goal of any treatment plan. The four main symptoms addressed by medical eczema treatments are itching, inflammation, dryness, and infection.
Since the itching sensation associated with eczema can be almost unbearable to the sufferer at times, many treatment plans include a very aggressive anti-itching regime. The first course of treatment is usually a topical cream or lotion that contains ingredients that produce a numbing effect at the site of the outbreak. The numbing properties reduce the itching sensations that are set to the brain so the patient can enjoy prolonged relief. Another topical eczema treatment choice includes the use of antipruritics. These medications, which include Doxepin and Pramoxine, relieve the itching through skin receptor blocking. For more severe itching a doctor may prescribe the use of an antihistamine. These medications, which include Benadryl, Claratin, Allerdryl, and Allegra, block the allergic reaction that causes some types of eczema and in turn relieve the itching associated with those reactions.
If the treatment plan needs to address inflammation a doctor may prescribe topical steroids, glucocorticoids, or UV light treatment. Topical steroid creams are available in different strengths and are used to reduce inflammation in both mild and severe outbreaks. Glucocorticoid treatment is given in either oral or injection form and is more commonly used when the outbreak is due to severe allergies. UV (ultraviolet) light therapy is typically used to treat severe cases of rash when inflammation cannot be controlled otherwise.
Since eczema outbreaks are worsened when the affected skin becomes dry and scaly many eczema treatment plans focus on lubrication. These creams or lotions usually contain hydrogenated vegetable oil or white petrolatum. These emollients are present in commercial lotions that can be purchased in the skin care or beauty aisle of most supermarkets. For more severe dryness a doctor can prescribe a stronger version of the lotion. Topical corticosteroids that also contain emollients can also be used to relieve itching and extreme dryness in one treatment.
In cases of eczema where the itching was uncontrolled an infection can develop. In these cases doctors will prescribe an antibiotic to kill the bacteria causing the infection and speed healing. These antibiotics can be prescribed in pill, liquid, topical cream, or injection form. If the infection is caused by a virus an antiviral medication will be prescribed.
Trial and Error
Although all treatments are matched precisely to the symptoms, severity, and conditions surrounding an individual's unique eczema outbreak it is important to understand that not all treatments will work for all patients. A course of treatment that works perfectly for your relative with eczema may not produce as effective of results for you. When undergoing treatment for eczema you need to be patient while your doctor explores many treatment plans and stay dedicated while you try first one combination and then another. Through trial and error you and your doctor will eventually be able to formulate the most effective eczema treatment plan for you and your precise condition.
New Help is on the Horizon
Aside from patience and the trial and error treatment effort, there are a few new drugs formulated specifically for eczema that you and your doctor may like to take a closer look at. These new medications include an anti-IgE drug, a protein blocker, and topical immunomodulators. The anti-IgE reduces the reaction between IgE antibodies and mast cells in order to stop the occurrence of allergic reactions. The protein blocker works to stop the allergic reaction that causes eczema in patients with food allergies. And, the topical immunomodulators work like steroid creams to stop inflammation and itching but since they do not contain steroids they are safer for use and produce fewer side effects.
With new advancements in treatments such as these, and an improved understanding of eczema fueled by ongoing research, soon you and your doctor will be able to control your condition with the most effective medical eczema treatment possible.
You might also like...
I had my first bout of eczema at 57 years of age having never had any symptoms what so ever, I'm now 61 and it's severe, it's ruining my life I just keep applying steroids I don't know what else To do have tried all the health food stores but nothing. I do hope a cure will be found soon.
Taf
- 8-Jun-14 @ 10:46 PM