Psoriasis in the Scalp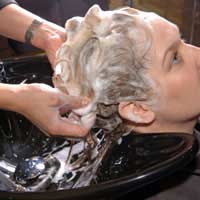 Psoriasis on the scalp is a common skin condition that affects about 3% of the population. Like regular psoriasis which affects different areas on the entire body, scalp psoriasis results from the overactive growth of new skin cells. When the cells grow to quickly red lesions and white-looking scales can begin to appear on the affected area.
Recognising the Condition
Scalp psoriasis can appear in mild or more severe forms. Mild psoriasis results in a fine, not as noticeable scaling over the skin of the scalp. More severe psoriasis, however, can result in thick silvery white scales, also called plaques, which cover the entire scalp and can interfere with hair growth. These scales are also usually accompanied by a raised redness to the skin around the scales.
Although scalp psoriasis is usually more common on the back of the head it can occur in patches anywhere on the scalp or cover the scalp in its entirety. And although the condition is known for causing scaly patches, pain, itchiness, and a feeling of tightness in the affected area can also result from this condition.
Treatment
Just as there are many degrees of scalp psoriasis, there are many forms of treatment. Medicated shampoos, topical steroids, coal tar, coconut compound ointment, salicyclic acid, ultraviolet light, and oral retinoids are a few of the different options that are available for treatment. The one that you choose will depend on the severity of your condition, your lifestyle, and the recommendations of your doctor or dermatologist.
Medicated shampoos are the most common choice of treatment. These shampoos contain different active ingredients that target the itch and scaling that result from scalp psoriasis. These shampoos are applied to the scalp, lathered in, and sometimes allowed to sit for a few minutes before rinsing. Since the shampoos are focused on the scalp and the condition they may not leave your hair as clean or fresh smelling as regular shampoos. In those cases you can use a regular shampoo immediately after you have finished your psoriasis treatment.
Topical steroids are prescription medications that are available in many forms. These treatments are prescribed in two-week courses and work to loosen and reduce the scaling that is associated with scalp psoriasis and also relieve the itching that can occur.
Coal tar treatment is available in shampoo, cream, gel, oil, and soap form. These treatments contain one of two types of tar: coal tar or wood tar. Coal tar is more effective and results can be seen in as little as one treatment. With continued use this treatment method is highly effective, however, the tar can stain gray or white hair and sometimes has a very strong, unpleasant order.
Coconut compound ointment is a combination medication that contains coal tar, sulphur, and salicyclic acid. The ointment is usually rubbed into the affected and left overnight, and then rinsed away with a morning shampoo. When used regularly this treatment is highly effective.
Salicylic acid is an active ingredient that is present in many topical scalp psoriasis treatments and it is used to loosen the scales and relieve the itching of this condition. This treatment option, however, is usually only effective on the mildness forms of the condition.
Another treatment option for mild scalp psoriasis is exposure to ultraviolet light. The treatment helps the skin repair itself and slows down the growth of new cells. However, since UV light is associated with the development of skin cancer, this treatment should be used sparingly.
Finally, for severe or hard to treat scalp psoriasis, your doctor may recommend oral retinoids. These medications are taken internally and are used to treat the psoriasis systemically, or throughout the entire body. These medications can be quite effective at clearing up scalp psoriasis but they have many side effects. Most side effects, like hair loss, will usually subside after treatment is discontinued but it is best to discuss all side effects with your doctor before beginning treatment.
Special Considerations
Aside from the pain, itchiness, and social embarrassment brought on by this abnormal skin growth condition, there are some special considerations to take into account when dealing with scalp psoriasis.
If you suffer from scalp psoriasis you need to add another step to your morning grooming routine. To help keep the scales under control it is recommended that you brush or comb over the affected area once a day to remove the scaling. Most people find this easier to remember if they do it at the same time that they brush their hair, however, since it will result in loosing of the scales many people prefer to do this step directly before entering the shower.
Some people who suffer from scalp psoriasis shy away from visiting the hairdresser or from having hair treatments, like perms or colors, done. You do not need to avoid these beautifying routines since they will not adversely affect your condition, however, you may want to call ahead and discuss your psoriasis with your stylist.
Finally, some sufferers of severe scalp psoriasis will notice a thinning or falling out of the hair. This condition is only temporary and the hair will grow back or thicken up once the condition is under control. To help prevent this adverse effect from occurring patients can seek treatment immediately once an outbreak occurs and be extra diligent in removing the scale build-up with a comb.
You might also like...
I have had psorialsis for 8yrs and it is doing my head in can you give me any treatment creams and shampoos as I have tried nearly everything but hasn't gone is going wrost please help
kinsella1234
- 23-Apr-13 @ 10:21 PM
My son has had psoriasis of the scalp for almost 3 years & has been quite embarrassing to him. Yesterday, a dermatologist advised that he have his head shaved or a very short haircut in order to help treat the area with a Salicitic solution. Is this good advice? My son is not too happy about a very short haircut, but the dermatologist thought that he would get used to having short hair after a while and that the scalp psoriasis could be treated much more easily. Any thoughts or further advice?
Bilko
- 25-Sep-12 @ 3:45 PM
I have had scalp psorisis for 22yrs, it is all over my scalp, none of the shampoos/lotions or creams have helped. I tear my scalp apart day and night with the itchiness. Doctor said she does not want to give me steroids.