Wounds, Bruises and Burns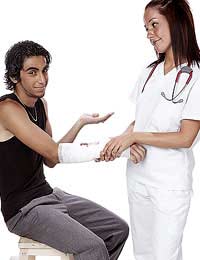 There are many types of injuries that happen to the skin but the three most common types are wounds bruises, and burns. These three injuries are very common since skin is very thin, easily damaged, and exposed to numerous harmful objects throughout the day. Since the possible of suffering from any of these three injuries is so common it is imperative that you be able to recognise and differentiate between the injuries and know how to treat them.
Causes, Signs, and Symptoms
Although these three types of injury are very common and occur on the skin, they vary greatly in cause, signs, and symptoms. Wounds are caused from the puncture or slicing of the layers of skin (or dermis) and result in bleeding, open sores, and cuts. Wounds can be caused by cuts from sharp objects like knives, glass, and paper, punctures from sharp objects like nails, and corners, and from blunt pressure that causes the skin to separate like when you hit your toe on a table leg or bang your hand with a hammer. The signs and symptoms that indicate a wound to the skin include bleeding, pain, swelling, and the separation of the skin.
Bruises, on the other hand, do not involve the opening of the skin. While bleeding is present it is kept inside the skin thus creating the black, blue, and purple hue that you see when experiencing a bruise. Bruises are caused by bumping into objects, by being hit with blunt objects, and from falling. The symptoms of a bruise include pain at the site of injury and skin discoloration discoloration from a build up of blood under the skin.
Finally, burns are caused by contact between the skin and higher temperature objects. Burns can be caused by contact with hot cooking pans, contact with flames, and by contact with hot or boiling liquids. The symptoms of a burn include pain, blistering on the skin, weeping of the skin, redness, and sometimes swelling.
Once you recognise which type of injury you have you can easily begin the proper treatment.
Wound Treatment
Since wound type injuries result in the breaking of the skin infection is always a concern. As soon as you experience the injury you need to compress the wound with a clean cloth to stop the bleeding. Once the bleed is controlled you can clean the wound with warm soapy water or an over-the-counter wound cleaner that contains antibacterial ingredients. Once the wound is clean pat it dry. You can then apply a commercial antibacterial ointment before applying a bandage. To ensure that your wound heals quickly and that infection does not develop you need to clean the area twice a day and apply antibacterial ointment until the skin closes.
If the wound is deeper than ¼ of an inch, is from an animal bite, bleeds profusely, or if it has any foreign objects imbedded in it (such as a splinter of wood) you need to seek the attention of a doctor for treatment.
Bruise Treatment
While most bruises will go away naturally within two weeks of the injury there are few things that you can do to speed up treatment. For pain relief you can take aspirin, acetaminophen, or ibuprofen. For the best results follow the instructions for dosage that are listed on the label.
To help relieve pain and swelling you can apply a cold compress (a bag of frozen peas straight from the freezer works great if you first wrap it in a towel) for 20 to 30 minutes at a time. Be sure to take a break form the compress for at least 20 minutes between treatments and only apply during the first 48 hours after the injury.
When the bruise is at least 48 hours old you can help the discoloration fade by applying a warm washcloth or compress to the area. This warm compress should only be left on the injury sight for about ten minutes at a time and the treatment can be repeated up to three times a day.
If the bruise is accompanied by extreme swelling, extreme pain, other symptoms not usually associated with bruising, or if the bruise appears without a logical cause you may need to seek medical attention. You will also want to see your doctor if the bruise lasts more than two weeks.
Burn Treatment
Depending on the severity and location of a burn injury you may be able to treat it quite successfully at home. If the burn is small in size, and does not extend to the deeper layers of the skin you can start treatment by running cold water over the injury or applying an ice pack for about ten minutes. After drying the area you can apply aloe vera (either directly from the plant or in the form of a commercial aloe vera gel), honey, or a mashed ripe banana to cool the skin, lessen the pain, and promote healing. You can also apply an over-the-counter burn treatment that is specially formulated for the treatment of minor burns.
Once you have treated the area you will need to cover it with a loose gauze or sterile bandage until it begins to heal. If the burn extends past the first few layers of skin, covers a large area of the body, was caused by chemical contact, is accompanied by chills, shivering, a rise in body temperature, or nausea you need to seek medical attention immediately.
Injuries like wounds, bruises, and burns are going to happen because of the activities that we choose during daily life. Your best defense against complications from these injuries lies in your ability to treat them correctly. Educate yourself and your family members about these conditions so that you will be prepared next time you are faced with an injury.
You might also like...