Can Diet Help Acne?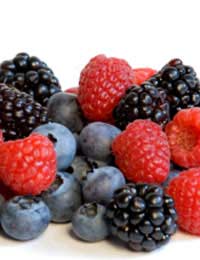 Dermatologists have argued for years about whether eating certain foods can either make acne worse or help to control the symptoms. Acne isn't caused by diet, and can't be cured by it, but even if you have a tendency to break outs, there are things you can include in your daily diet which may well ease flare ups and diminish the symptoms of acne.
Can Vitamin A Help with Acne Treatment?
Vitamin A has long been mentioned as a potential cure for acne; in fact many prescription only creams include vitamin A after research showed that people with severe acne often have lower levels of the vitamin in their bloodstream.
In normal skin, Vitamin A is needed to maintain healthy skin, as well as hormonal balance. One of the main triggers for acne is an imbalance in hormones so it does look as though Vitamin A in food could also be promising as an acne treatment. To supplement your diet with natural vitamin A, try eating fresh fruit and vegetables, especially carrots, broccoli, and spinach, kale, spinach, peaches, apricots, and mangoes.)
What Does Current Research Say About Zinc and Acne?
Zinc is another mineral often used in supplement form, which has been found to help acne sufferers. For some reason that dermatologists aren't quite sure about yet, it seems that a zinc deficiency can lead to over production of male hormones, which can cause acne.
Some research in America showed that some patients claimed to be cured of their acne after taking zinc gluconate supplements and following a low fat diet. In one controlled study, zinc dramatically improved the acne symptoms in around 60% of acne sufferers. If you want to try zinc for yourself, it's found in brewer's yeast, whole grains, Brazil nuts and pumpkin seeds.
Vitamin B6 and Acne
Each of the B vitamins has a specific role in promoting healthy skin, especially Vitamin B6. A deficiency in this vitamin has sometimes been cited as a direct cause of acne. Vitamin B6 helps the body to metabolise proteins, sugars and fatty acids, and also helps to maintain a healthy immune system.
All of the B-complex vitamins help to reduce the effects of stress on the body, and stress itself can contribute to acne, so a good B Complex supplement may help relieve acne symptoms too.
Chromium And Selenium – Do these Trace Elements Help Acne?
Some research has indicated that a staggering 90% of the population could be deficient in chromium. Chromium is a mineral which helps to stabilise blood sugar – people with unstable blood sugar levels are often prone to developing severe acne. Happily, in some trials, patients with severe acne who were given a supplement of 400 micrograms of chromium in the form of yeast, their skin improved. If you want to supplement your diet with Chromium, you can find it in brewer's yeast and molasses.
Selenium that has received a lot of attention in recent years, and research has shown that if you supplement with selenium, plus vitamins A & E for a period of around 12 weeks, you may be able to reduce the severity of persistent acne and help reduce the scarring it can cause. Selenium is found in Brazil nuts, tuna and cod.
So – don't worry too much about what you should be avoiding – the stories about chocolate and junk food giving you spots may well be old wives tales...but try including some vitamin rich foods in your daily diet, and with the right supplement, you could seriously improve your acne...
You might also like...