Creams and Lotions to Help Clear Acne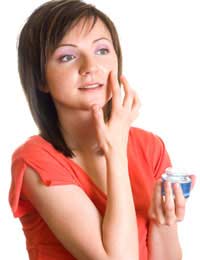 There are many types of acne treatments available on the market today. Of those that can be purchased without a prescription, creams and lotions are the most popular. However, before trying one of the treatments it is best to understand a little about the active ingredients, how those ingredients work, and how they affect the skin. Since the goal of acne treatment is clear the outbreaks not make the condition worse, understanding your options before treatment is imperative.
Common Active Ingredients
All acne creams and lotions have one thing in common- they work to clear up acne lesions and heal the skin. However, how these treatments go about accomplishing that goal is apparent in their active ingredients. Benzoyl peroxide, salicylic acid, sulfur, resorcinol, and tea tree oil are the main active ingredients used in commercial acne lotions and creams.
Benzoyl peroxide, like that found in Acne Free Clear Skin Treatments and Proactiv Solution Acne Treatments, works by drying out the oil that leads to pimples and outbreaks. This ingredient helps unclog pores but can be very drying to the surrounding skin.
Salicylic acid, found in Neutrogena Rapid Clear Acne Defense lotion and Murad Acne Complex, also dries out the oil that clogs pores. However, this ingredient has also been shown to help prevent outbreaks and help maintain the condition of pores. The down side to this treatment is that it can be very irritating to the skin and result in redness, flaking, and discomfort.
Sulfer and resorcinol are two active ingredients that are used in combination in products like Acnomel Acne Medication cream and Clearasil Adult Care cream. These ingredients also dry out the acne causing oil in pores but don't cause as much skin irritation. These products are great for people who have very sensitive skin.
Tea tree oil is a unique active ingredient found in numerous over-the-counter acne lotions and creams in that it kills the bacteria found on the skin that causes pimples along with drying up the oil that makes the condition worse. This ingredient is also perfect for sensitive skin and offers an additional moisture barrier that helps keep skin hydrated during treatment.
Since there are so many ingredients to choose from it may be difficult to determine which ones will work best for you. However, once you understand your skin and your acne, you can make a better-informed decision regarding treatment.
Deciding Which Treatment to Chose
The first step in deciding which type of acne lotion or cream to use is deciding what your skin needs and what type of skin you have. Sensitive skin users will want a product, like one with tea tree oil, that is not as drying to the skin and those that suffer from severe acne will want a product, like one that contains salicylic acid, that is stronger for better results.
The second step is deciding what other benefits you want from your treatment. Some products also offer ingredients that help reduce the appearance of acne scars, some contain ingredients that boost skin hydration for smoother skin, and some include ingredients that help with blackheads and whiteheads as well as acne. Read the labels and decide which additional treatments are best for you.
Finally, no matter which skin type you have or what severity of acne, you will want to choose a product that fits into your schedule. Some acne creams and lotions must be applied three times a day for wanted results while others only need to be applied at bedtime. Some treatments involve only one step for clear skin while others require the application of three or four different products for desired results. By choosing the regime that works best with your lifestyle you will improve the odds that you will stick with the treatment continuously until your acne has cleared.
Treatment Tips
No matter which type of acne lotion or cream you choose, there are a few things that you need to keep in mind.
The active ingredients in acne treatments can cause your skin to be much more sensitive to sunlight. In order to protect your skin from sunburn and the damaging effects of the sun you need to use an SPF of at least 15 everyday during treatment.

If the label states that the treatment should be used once a day do not increase the frequency. Some people believe that if once is good then twice should be great. However, since the ingredients in acne treatments can be too harsh if applied too frequently it is best to follow the products indications exactly.
Although the active ingredients work to unclog pores they can not effectively do so if your skin is dirty. Always clean your face with a mild soap and warm water before the application of any acne medication.
By following the above tips and choosing the acne lotion or cream that is right for you, you can take control of your acne and enjoy the glow of healthier looking skin.
You might also like...