Hormonal Treatments for Acne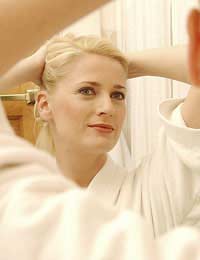 Adult women who are still suffering from acne may want to look at alternative treatments in order to achieve real results. Because over 60% of adult women do not find relief with standard topical or oral acne treatments they go on to experience outbreaks month after month. Hormonal treatments for acne are gaining popularity among this group because they offer a better chance for real improvement.
Hormonal Acne Treatments
There are two main types of hormonal treatments for acne prescribed today- oral contraceptives and antiandrogens. Oral contraceptives or birth control pills, are usually the first line of treatment for female adult acne that is non-responsive to traditional treatment. These hormones are used in low-dose varieties to reduce side effects but still produce acne-clearing results. Antiandrogens, or pills used to block the effects of the male hormone testosterone, are mostly prescribed in conjunction with oral contraceptives to further boost the results of the hormonal acne treatment.
Is this Treatment Right for You?
Hormonal treatment for acne is usually prescribed for women who are in their 20's or 30's and who have shown a resistance to regular topical or oral acne treatments. These women also usually have a history of irregular menstrual cycles, excessive facial oil production, and an increase in acne activity prior to their monthly menstruation.
How These Treatments Work
Oral contraceptives help control adult acne in women by controlling hormonal changes in the body that produce excessive amounts of oil on the skin. When oil secretion is reduced pores are less likely to clog and the occurrence of acne is eliminated. In treatment low-dose oral contraceptives, like Estelle 35, are prescribed. After one to two months of continuous treatment improvements are seen in the outbreaks of acne. However, even after the acne has completely cleared most women must stay on the treatment in order to maintain results. Since acne flare-ups can further worsen during menopause, women must continue taking the oral contraceptives throughout this time.
Antiandrogens work by blocking the production of testosterone, which also causes increased oil secretion. This treatment, which is prescribed under name brands like Aldactone and Spirotone, takes about two to three months to produce results, does not include any major side effects, and has been proven to work well in the treatment of acne.
Getting the Most Benefit from Treatment
Since both of these treatments involve the manipulation of hormones in the body they may take a little trail and error before results are achieved. Birth control pills can cause side effects such as weight gain, irritability, and nausea. In order to find a treatment that clears up your acne and works well with your body you may need to try a few brands before you settle on the most effective one.
Although antiandrogens do not usually produce any unwanted side effects, getting the dosage right can be tricky. If prescribed this type of treatment you may need to go through a few dosage changes before seeing the desired results.
Even though both hormonal acne treatments have been proven to work, many women see faster improvement and longer lasting improvement when they combine their hormonal treatment with the use of topical acne creams. While on hormonal treatment it is best to follow an acne treatment cleansing routine that includes the use of medicated soap, cream, and moisturiser. To further boost results, women are also encouraged to follow a skin healthy diet and drink plenty of water.
Only a doctor or dermatologist can decide if hormonal acne treatment is right for you. If you are tired of suffering from acne well into your adult years, schedule an appointment with a medical professional and see if these treatments can be your answer to clear skin.
You might also like...