Do Washing Detergents Affect Eczema?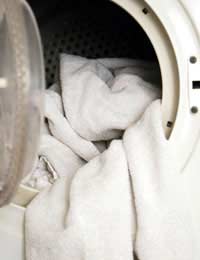 A lot of people suffer from eczema and many do not realise that the dryness and irritation may be triggered by everyday household products, which if removed from the environment, may help reduce the incidence of eczema or decrease the symptoms.
What is Eczema?
Eczema, otherwise known as dermatitis, is a fairly widespread problem, affecting many people, including the very young and old, and can vary in severity.
It commonly results in dry patches of skin that can appear raised from the normal layer of the skin, and may deteriorate to being very itchy with broken patches of skin that weep. In some cases, the skin can crack quite deeply and make the area bleed a little and leave it open to infection.
For some sufferers the cause might not ever be fully understood, but for some, the trigger may well be something they use everyday like a soap or indeed a washing powder or fabric conditioner.
Why Might a Washing Powder Make Eczema Worse?
In the past it was thought that biological washing powders may have contributed to the development of eczema in some people, however, scientists are now re-thinking this idea.
Originally it was thought that the enzymes contained in some washing products may have aggravated eczema, but so far, findings have found this to be possibly untrue. There still may be links between the chemical content of the product such as the colours or aromas used and that they may still pose a risk, but they are continuing to try and rule out links between enzyme content and eczema flare-ups.
It is possible that you may be irritated by other ingredients and compounds within the washing powder or fabric softener, in which case you may also find that you are sensitive to some of the products found in many skin cleansers, moisturisers and body creams and that your 'allergy' is not purely related to washing powder in general.
Avoiding Eczema Caused By Washing Powders
If you think an ingredient within your washing powder may be contributing to your eczema, why not exchange it for a less highly scented variety or something that is suitable for the delicate skin of babies?
You could always perform your own skin test and exposed a very small area of your skin to the product you think is aggravating the area, but it may be wise to speak to your doctor or dermatologist first as they may want to conduct their own tests or advise you further before trying this.It is also possible that something in your diet may be acting as a trigger for your eczema so this avenue may be worthy of some exploration also.
Eczema can be a very irritating problem and can often leave the skin looking obviously affected and sore and be a source of embarrassment for people. If you are bothered by your eczema, please see your doctor who may be able to refer you to a skin specialist for more advice on the problem.
You might also like...
We use Caring Panda's Washing Powder only. Now they seem to sell them only in larger packages of 5kg. They used to sell in 1kg and 3kilo packages too. It has helped us a lot, but so did diet changes too. It costs about 35£ so one wash is 0.35£, cheaper than some other brands but not the cheapest in any way. Others have liked it too because of the reviews on Amazon UK, try it out and see if it helps!
Andy
- 17-Jun-18 @ 6:41 PM
We find washing detergents are a massive trigger in our house. If we use any different type we have bog flare-ups so we stick to using Fairy Non-bio. It seems to be fine for our eczema. We then use Eco balls for the dryer as they are Eco-friendly and safe for eczema.
OurEczemaStory
- 23-Mar-18 @ 7:14 PM