How to Treat Baby Eczema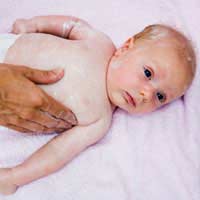 Baby eczema is a form of dermatitis or inflammation of the skin. It can vary in severity and may be as mild as small patches of red irritated skin to crusting and weeping affecting large areas which may crack or bleed.
In babies is commonly found on the scalp, face and limbs but can develop anywhere. It isn't contagious, but if it gets infected the bacteria or fungus that can grow may be transmitted.
What Causes Baby Eczema?
For some babies that cause of the eczema may not be known as it may well be an immune response that is aggravated by their environment and as their body learns to adjust to living in the outside world.
For others however, the cause may be due to having contact with an irritant such as the enzymes in washing powder, or exposure to certain allergens.
Home Remedies
Keeping your baby's skin well hydrated may be key to how severe the eczema develops. Making sure that the skin is washed using a mild cleansing agent or simple warm water followed by drying thoroughly an application of a baby moisturiser may help keep the skin protected from drying out and flaking. It is useful to try and find a non-scented and non-coloured baby lotion as sometimes the chemicals and ingredients in these products can act as an irritant.
For some, this may not be sufficient and the eczema may grow more severe regardless.It is important to try and deduce what has caused the eczema. Try using a non-biological washing powder and specially formulated baby soaps or using no soap for a while to rule out whether these are causing the irritation. Likewise, the nature of the fabric may be irritable to baby's skin and soft cotton will be less aggravating than wool or nylon, so careful selection of underclothes is worth considering.
It can be helpful to make sure your baby's bath water is not too hot as this can cause drying of the skin and make flare-ups seem worse that they actually would be. If this is the case, make sure the room in which you are bathing your baby is warm enough to tolerate a cooler bath.There is also some evidence to suggest that your baby's diet may play a role in the development or severity of baby eczema. If you are introducing your baby to a normal diet, make sure you select only one new food type at a time making sure that it is natural and not full of colours and additives.
Alternative Treatments
Massage maybe the perfect way to help your baby relax if they are suffering with eczema. Use a specially formulated product that is safe for baby massage and attend a baby massage class so you can learn the safest ways of massaging your baby. Make sure that baby's skin doesn't become too dry when massaging and always use some form of lotion, oil or lubricant as the contact from your hands on their skin may remove valuable oils from their skin.
Some alternative therapists recommend the use of aloe vera products for baby eczema as it is known to reduce swelling and inflammation but please make sure it is suitable for use on infants and is not too strong for their delicate skin.
Prescription Medicines
Your doctor may be able to recommend certain over-the-counter products for baby eczema which can work very well. These may come as creams, lotions, oils or even products to add to the bath.If however, the eczema is quite severe and beginning to distress your baby, a small amount of steroid cream may be recommended as this will help reduce the irritation and amount of flare-ups your baby experiences.
Baby eczema is quite common and there is every chance that making a few changes in the home will help resolve the problem, or that it will simply disappear over time.When choosing a product for baby eczema, please make sure it is suitable for use on babies.
You might also like...