Peeling Skin in Newborns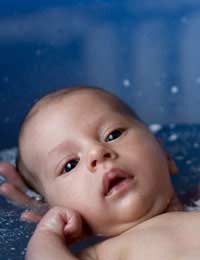 Having a new baby can be an exhilarating yet frightening time. First-time parents often worry about every aspect of their newborn's development, checking again and again to make sure everything is the way it should be.
When a baby is just born, the vast majority look far from "perfect". A baby who has spent the best part of nine months inside his mother's womb will often emerge with bluish hands and feet, a bloodied head and a body that is covered in vernix, the creamy white substance that helped protect him before birth.
Some babies will also have a slightly squashed appearance, especially if a ventouse has been used to facilitate the birth, and others may have peeling skin, especially around the ankles, feet, wrists and hands. All this is completely normal, and nothing to worry about.
Why Peeling Skin?
Babies who are overdue are those who seem to suffer from peeling skin the most. That is because they have less vernix, which protects their skin from the amniotic fluid. Babies who are premature will normally have more vernix, babies who are on time or late will have less.
In the first few weeks of life, most babies will lose the top layer of their skin after the vernix has gone. The flaky, peeling skin is nothing to worry about, although the new skin layer underneath may be more sensitive to the environment than the original outer protective layer.
In some cases, the protective skin may start to crack, especially around the ankles and wrists. Don't be alarmed by this – it is natural and normal. It just shows that your baby's skin is more sensitive to air than it was to the fluid surrounding it in the womb.
Treatment of Peeling Skin
If your child suffers from peeling skin, the best thing to do is to leave it alone. It does not need to be taken off, as it will flake away naturally by itself.
Many parents, however, worry about their baby's flaking skin, and want to do something to moisturise it. If you decide to take this route – and there is nothing wrong with it – just make sure you use a moisturiser that will not irritate your baby's sensitive skin.
GPs recommend using aqueous cream, or applying medicinal olive oil from your chemist. Make sure you do not use a nut oil on a newborn baby in case the child has nut allergies.
What Is Normal
Peeling skin is quite common in newborn babies, along with loose stools, hiccoughs and other common complaints (from parents, that is). The amount of skin a child will actually shed often depends on whether the baby is born pre-term or not. Babies who are two weeks late may shed their skin in huge flakes; then again, they may not.
Most babies do not require any treatment for peeling skin, although some parents feel more comfortable applying a safe, unscented moisturiser on their baby's delicate skin. Doing regular baby massage may also help facilitate skin shedding, while also helping you to bond with your baby.
If the flakiness and peeling does not clear up on its own within a few weeks, you might want to ask your health visitor about the condition or visit your GP. That's just in case the problem is actually eczema, and not naturally peeling skin at all.
You might also like...