Should Babies Use Soap?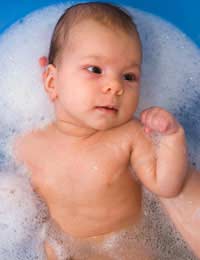 Babies have very sensitive skin, and health professionals often recommend not using any cleansers that would harm the delicate balance and cause any irritation whatsoever.
But when a baby wears a nappy, many parents want to use soap to make sure their child is really clean – and to give them a pleasant, fresh smell that comes from soap that is often heavily perfumed.
Some babies seem to be able to tolerate virtually any type of cleanser, while others have skin that gets irritated easily. So is it safe to use soap on babies – and if so, when and what kind?
What's in Adult Soap?
Adult soap, on the whole, contains certain ingredients that could often harm the delicate balance of a baby's skin. These include:
Deodorants. Absorbing body odour is one reason we use soap.
Perfumes. Disguising body odour is yet another function of soap, and many soaps contain harsh fragrances that irritate even adult skin.
Dyes. Many people want their soap to match the colour of their bathroom, which is why dye is almost always found in soaps.
Lathering ingredients. Having a soap that lathers well is important for adults, while unnecessary for babies.
Anti-bacterial chemicals. Anti-bacterial soaps are very popular today, as they claim to protect against disease. But these harsh ingredients can wreak havoc on a baby's soft skin.
Baby Soap for the First Year
Many health professionals today recommend bathing babies in specially formulated baby cleansers for the first year, or washing them only in warm water, then applying medicinal olive oil, available from the chemist, if their skin is dry or flaky.
If your child has delicate skin or eczema, ask your GP which soap they recommend. Often, GPs advise parents of very young children to avoid soap altogether and use a moisturising emollient instead, such as aqueous cream.
GPs also advise parents not to go overboard in their attempt to keep very young children clean. As long as the nappy area, hands and face are washed, babies need no more than two baths a week, which will help their skin from becoming too dried out.
Remember, if you bath your child using a moisturiser or no soap at all, his skin can still be irritated by the shampoo, which gets into the bath water. Aqueous cream also works well as a regular hair wash for babies, who have little hair anyway. Just make sure you rinse it well, to avoid it becoming too greasy.
If your baby has allergies or eczema, ask your GP about the best bathing routines. Some children respond better when they are bathed more often in an oatmeal bath, or using specially formulated body oils. Others respond better to infrequent baths.
Soft and Smooth Skin
Health professionals also warn parents of children with sensitive skin about using harsh cleaning agents in the wash. Many children respond badly to washing powders, which often contain dyes and fragrances.
You can check your child's tolerance to washing powders by washing one or two items of your baby's clothing with your regular family wash, then seeing if they got itchy or irritated by it. If not, you will save yourself the expense of buying separate washing powder for your baby.
If your baby does react badly, it might be worth looking at baby wipes as well. Many parents of children with sensitive skin find that perfumed baby wipes exacerbate nappy rash. Use non-perfumed ones, or just balls of cotton wool and water, if this is a problem.
Talk to Your GP
Keeping your baby's skin soft is easy to do if you avoid soaps and washing powders that irritate his or her sensitive skin. If in doubt about what you should be doing to care for your baby in the best way possible, ask your GP for advice.
You might also like...