The Effects of Alcohol on Skin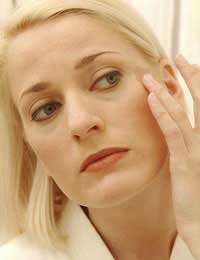 Drinking excess alcohol can affect your skin in a variety of ways, making you look unhealthy, tired, and – in some cases – significantly older than you actually are.
Putting skin care products containing alcohol directly onto sensitive skin can also upset its delicate balance, making your skin appear dry, flaky and distinctly lacking in moisture.
Drinking Alcohol and Your Skin
Alcohol and skin are not a great combination. While you may think that having a drink at the end of the day is a relaxing way to unwind, too much alcohol can cause untold damage to your health – and the way you look.
Some of the ways in which drinking alcohol can affect your skin include:
Broken capillaries. Ever heard of the term "grog blossom"? That's what happens to people who drink too much. The capillaries surrounding their nose become red, as every time your drink alcohol your blood vessels dilate. After a while, this can become permanent – affecting not only the nose but the entire face with red spider veins.
Worsened rosacea. People who have this condition, which makes the facial skin red and prone to unsightly pimples, often find it gets a lot worse when they drink.
Skin malnutrition. Drinking lots of water hydrates your skin, but drinking water depletes your skin of the moisture it desperately needs to look and feel healthy. If you drink a lot, your run the risk of your skin looking permanently dull. Dehydration can also make dark circles appear darker, and the skin to lose its plump, fresh appearance.
Sallow appearance. Over-consumption of alcohol can affect the liver, and cause it not to detoxify the body as well as it should. This can result in an unsightly sallow appearance.
Wrinkles. Many people smoke when they drink, and we all know that nicotine contributes to the formation of wrinkles over time. Both smoking and drinking also deplete the body of important Vitamin A resources, which are important for protection against free radicals.
Using Alcohol-Based Skin Care Products
Putting alcohol directly onto the skin can also cause undue harm, especially if your skin is delicate or sensitive.
Skin care specialists warn against using alcohol-based products, which can even deplete the body of Vitamin A and dilate blood vessels when used topically.
There are, however, good and bad products containing cosmetic alcohols - some of which are actually beneficial to the skin, and help it retain moisture rather than taking it away, or depleting it from the skin.
You should stay away from anything containing ethyl alcohol, ethanol, methanol, benzyl alcohol, isopropyl alcohol, SD alcohol and denatured alcohol – so read the labels carefully.
The following cosmetic alcohols, however, are also known as "fatty alcohols" and can be good for your skin:
Cetyl alcohol. Often used in baby products, it is gentle and made from coconut oil.
Cetearyl alcohol. Made from natural oils and fats, it helps your skin get and retain moisture.
Lanolin alcohol. Made from sheep's wool, it can be an allergen to some people.
Steryl alcohol. Also made from coconut oil.
Be careful how much alcohol you consume, if you want to keep your skin looking as healthy and young as possible, for as long as possible.
And always read the labels when it comes to skin care products, if only to learn what the "good" and "bad" cosmetic alcohols are. Your skin will thank you!
You might also like...
I have had a few capillaries on my face for sometime. Recently I have started using two products, RetinA micro which contains as well as Timeless CQ10--both of which contain benzylalcohol. Could this cause broken capillaries? Timeless CQ10 has minimal ingredients with the benzylalcohol being second to the last ingredients. I believe there are only may five or six ingredients if this makes a difference. Any thoughts?