What Type of Skin Do You Have?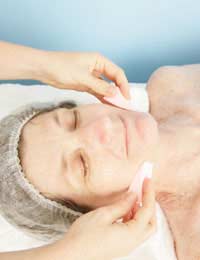 It's important to regularly take care of your skin, but the key to doing it properly is to know what type of skin you actually have.
If you don't know your skin type, you run the risk of not looking the best you can, or even damaging your skin. That's why skin-care professionals have identified five main different skin types, to help devise products and routines suited to each one.
Take this short questionnaire to identify what type of skin you have. Just answer "yes" or "no" to each question, then look below to see which skin type most closely suits yours.
Once you identify which type of skin you actually have, you can easily learn which care routine is best for you – and your skin. And once you know how to take care of your skin, you're on your way to looking beautiful!
1. Your skin is not too greasy and not too dry, and the signs of ageing will be slow to show up. You can wear make-up with style, and rarely do you worry about skin break-outs or spots. You are lucky: this type of skin is the last problematic of all the different skin types.
2. You are prone to having enlarged pores and getting spots, and may have had a lot as a teenager. Your cheeks, forehead and nose, commonly known as the T-zone area, might show a lot of oil and grease, or might just look shiny no matter what you do. This could be to an increase in hormones, or extra sebum production. You might despair that your face often, if not always, looks greasy, and wear too much powder to alleviate that – which actually will exacerbate it!
3. Your skin feels tight and dry a lot of the time, and is prone to premature ageing and wrinkles. Wearing certain types of make-up can be problematic, as your skin can start to flake off and look funny when you do. Your skin can be easily irritated and you may look older than you actually are, as well as a bit sallow sometimes.
4. Your skin is no doubt resistant to most types of lotions and potions, which can make you break out. Your skin often looks red and scaly, and sometimes it itches. This can be the most difficult of all skin types to have, as it is hard to find products that make you – and your skin – happy.
5. While your T-zone might be oily, the rest of you face might be dry and flaky. It can be hard to find products that moisturise one part of your face, without making the other parts break out in spots.
How Did You Do?
Did you see which skin type most closely suits yours? Read on to find which type of skin you actually have – and to find out what you should be doing to take care of it in the best way possible…
1. If you said yes to Number One, you have…Normal Skin. Lucky you! You don't have to invest in expensive products, but don't leave your natural good skin tone up to chance. Remember the Holy Trinity, and clean, tone and moisturise daily.
2. If you said yes to Number Two, you have…Oily Skin. This type of skin will look younger for longer – but that may be because you could still have acne as a 50-year-old! Cleanse regularly, and if you suffer from regular break-outs, see your GP for specialist treatment. Avoid cosmetics that will exacerbate spots.
3. If you said yes to Number Three, you have…Dry Skin. Don't underestimate the importance of keeping your skin hydrated at all times, inside and out. That means drinking plenty of water and slathering on good quality moisturisers, to avoid feeling tight and itchy and having make-up that flakes off.
4. If you said yes to Number Four, you have…Sensitive Skin. Avoid any type of skin care products that contain artificial colours or fragrances, and stay away from anything containing alcohol, as it will dry out your face and make it flaky. Natural, organic products will be the best for you.
5. If you said yes to Number Five, you have… Combination Skin. You will need to assess your skin from time to time and see what is going on with your face, as it develops and changes. You will also have to invest in different products to apply to different parts of your face, to keep all parts looking good.
Taking care of you skin is important, and so is identifying the type of skin you have. Once you know, it's all uphill from here - and you'll be on your way to having the most beautiful skin possible!
You might also like...