The Importance of Sleep to Healthy Skin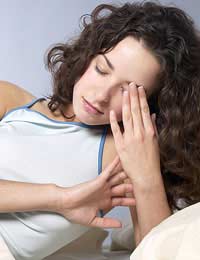 For decades, mothers have been telling their children to get at last eight hours' sleep a night, to look and feel better the following day.
Well, now this motherly advice about the importance of beauty sleep is more than just folk wisdom or common sense: it's official health news.
A recent Swedish study, conducted at the end of 2010, has proven that the right amount of sleep makes people not only look and act better, but look more attractive as well.
It involved a group of volunteers who were photographed after a good eight hours' sleep, and again after they were kept awake for 31 hours. In the photos, they were not allowed to use any make-up or have fancy hairstyles.
The results spoke for themselves: independent judges who also took part in the study said that those who had a good night's sleep looked not only healthier, but also "more attractive" than those who didn't.
Why We Sleep
Sleep is important to humans, as important as food and drink. When we sleep the brain recharges, we think up solutions to new problems, and recharge our batteries on the whole.
Hormones are released when we sleep, and the entire body has a chance to regenerate itself. That means the body can replace certain chemicals as well as tissues and dead cells, including dead skin cells.
Our skin, which is the largest organ in our body, can help repair itself when it's asleep, as other organs in the body do. That's why the most evident signs that we are missing sleep show up first in our faces, when we get dark circles under our eyes and those puffy tell-tale eyebags.
Sleep and Skin
Few people realise it, but we can survive a lot longer without any food than we can without sleep. And sleep is cumulative, meaning that if you don't sleep at all for two nights the effect will be far worse than if you miss just one night's sleep.
Proper sleep is important to every part of our body, but the effect sleep has on skin is amazing. If you don't get the right amount of sleep over time, the signs will be obvious.
Along with those dark circles and eyebags, some signs that a lack of sleep might be affection your skin could include:
More rashes on your body due to greater inability to fight infection.
Greater tendency to produce stress hormones, which can cause inflammation in the skin, leading to more wrinkles and acne.
Greater tendency for flare-ups of eczema, as you are reducing your body's resistance to certain irritants.
A slow-down in collagen production, due to the excess of stress hormones whose cause is rooted in a lack of sleep.
Skin that on the whole looks older and more tired.
More Than Just Skin Deep
Sleep is far more than just skin deep, however. Another study, this one in the US, has found that people with chronic insomnia have a two-fold mortality increase than those who sleep well.
The study from the Wisconsin Sleep Cohort Study found that people with different types of insomnia, which were described as either difficulty falling sleep, repeated awakenings, or inability to fall back asleep after waking, were far more prone to an increased risk of death.
The study concluded that this risk was due to either an increased accident rate amongst people who were chronically tired, or because bodies suffering from a chronic lack of sleep were unable to heal themselves from injury or major illnesses.
Get Your Eight Hours
Stress can play havoc on your skin, so get plenty of exercise, drink plenty of water and calm down before you go to sleep at night – hopefully for a good eight hours.
Limit alcohol consumption before going to bed, and don't have a heavy meal before lying down. Try to stick to a regular bedtime and try to wake up at the same time every morning.
We all need the right amount of sleep to perform better, and to look better as well. Expensive lotions and potions can now take a backseat to nature's way of making us look and feel great.
It's official: beauty sleep is no longer a myth. If you want to wake up in the morning looking younger, more refreshed and more rejuvenated, just make sure you get the right amount of sleep. Good night!
You might also like...