Life-Threatening Skin Rashes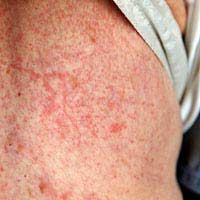 The vast majority of skin rashes developed by either children or adults are not life-threatening, simply annoying. We might get itchy after changing washing powders, for example, or break out in hives after eating something we weren't aware that we were allergic to, such as pine nuts or kiwi fruit.
Sometimes, we get a rash as the result of a minor virus, or because we are bitten by something that makes us break out in small blisters or bumps. Usually, an antihistamine and a dab of anti-itch cream is all that's needed to make us feel as right as rain again.
But in some cases, a skin rash can be a symptom of more than an allergy or insensitivity to something. While it can be incredibly rare to develop a skin rash that could be life-threatening, if this does happen to you or your children, knowing what to do could save a life.
Signs of Potentially Dangerous Rash
Life-threatening skin rashes share one or more of these distinguishing features:
Rash will cover all or most of the body, including the mucous membranes (moist linings) of places such as the mouth, nose, eyes, vagina and rectum.
Rash will be accompanied by blisters on top on most parts of the rash. If you press on the blister, or on the skin next to it, this will only serve to make the blister enlarge, not go away.
Top Five Rashes
Here are the top five life-threatening skin rashes, in alphabetical order:
Pemphigus vulgarus. A skin disease that causes blisters so severe that they can become infected and result in death. Before treatment became available, most people who developed this rash died from it. These days, it can be cleared with the right treatment, including steroids. More common in people aged 50 and over, it is not contagious and affects up to five people in a million.
Staphylococcal scalded skin syndrome. Usually occurs in children less than five, and gives the appearance of skin so blistered it appears scalded (hence its name). It stems from a local staphylococcal infection that produces two causative toxins. Often an immune adult unwittingly introduces this into a nursery or childcare facility. Treatment will require an immediate hospital stay and intravenous antibiotics. Can be fatal.
Stevens-Johnson syndrome. This sometimes fatal inflammatory disease, also called erythema multiforme major, results in multiple lesions (blisters) in the mucous membranes. It can be precipitated by certain drugs, although specific infections, such as herpes, often precipitate it as well. Treatment involves identifying the precipitating agent, lots of fluids, and often hospitalisation, including occasionally care in a burn unit.
Toxic epidermal necrolysis. Similar to Stevens-Johnson syndrome, it can be precipitated by a drug and causes intense blistering. Also called Lyell's syndrome, it requires similar treatment as well, with hospitalisation, withdrawal of precipitative drugs, and care in a burn or intensive care unit.
Toxic shock syndrome. A bacterial infection that progresses very rapidly, and involves immediate treatment. Originally associated only with tampon use, there are now two types of toxic shock syndrome identified, and both can affect anyone. Usually there is a fever, diarrhoea, headache, sore throat and drop in blood pressure, accompanied by a skin rash resembling a sunburn, which can peel. Eventually liver and kidney failure can occur. Treatment involves intravenous antibiotics, fluids and other medications.
Please note that bacterial meningitis, which can also be fatal, is sometimes accompanied by a skin rash as well, but this isn't always the case. Sometimes the rash is not visible, and in people with very dark skin it can be hard to see at all.
When in Doubt, Act
Life-threatening skin rashes are rare, but you need to know how to deal with one should the worst happen. When in doubt, see your GP immediately, or visit your local A&E if your doctor is not readily available.
Most skin rashes are nothing more than a minor irritation, but they can, in rare cases, be indicative of something more sinister. Don't leave your health, or your family's health, up to chance - take action quickly if you see any skin rash that could be cause for concern.
You might also like...