Light Therapy Helped My Acne: A Case Study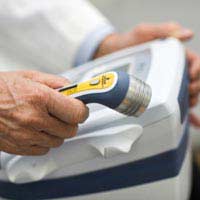 Laura Jones had acne for much of her adult life, probably beginning sometime in her twenties. But when she was in her early thirties, her acne changed.
"I probably had a spot or two all the time, then it started getting worse," says Laura, who's now 40 and lives in London. "I was really self-conscious about it and it was bothering me a lot.
"It would stay red for a long time, and then I started having scars. My friends all told me that it wasn't really that noticeable, but I thought it was. It made me feel very self-conscious about how I looked."
"Moderate" Acne Diagnosis
Laura went to see her GP, who diagnosed her as having "moderate" acne and put her on antibiotics in an attempt to clear things up. "I was on antibiotics for a long time, and although they did help I know that you cannot be on antibiotics for your whole life," she says.
"So the GP offered to put me Roaccutane instead, which is a strong anti-acne medication. A friend had gone it and said it worked, but it made her face all red with peeling skin.
"At the time I was in sales and doing a lot of fundraising and presentation. You cannot be making presentations in front of people with your skin peeling off, so I chose not to go on that."
Instead, Laura decided to go on a contraceptive pill that helps acne. It helped as well, but as she has a family history of varicose veins and stroke, she didn't want to stay on it for too long. When she went off it, her acne got worse again.
Discovered Light Therapy
Then she found out about light therapy, purely by accident. She had ordered a special lamp for people who suffer from Seasonal Affective Disorder, and the company that made it sent out an email asking for participants in an acne study.
"I told them about my background, that I felt ashamed of my acne and that I was self-conscious about it. I also told them I had recently had surgery for varicose veins that a grandmother died of a stroke at age 49, so I didn't want to be on the Pill too long. To make a long story short, they accepted me for the study."
The study involved 12 weeks of using the Lumie Clear light, which uses specific wavelengths of LED red and blue lights to get rid of the Propionbacterium bacteria that contributes to acne, and also promotes the healing process.
"I could use it placed on a stand so my whole face got the light, or put it against my skin in one spot for 15 minutes. One side of my face was worse than the other, so I would use it on that side of my face for 15 minutes, and then on my chin for 15 minutes.
"Every two weeks I sent pictures and chronicled in words my progress with the lamp to the company. In 12 weeks my skin did improve, and friends said it was looking better too."
Noticed a Difference
Laura says she really noticed a difference. "For the first time my skin improved tremendously without taking pills or using creams. It didn't go away completely, but it looked a lot better."
After the 12-week period, however, Laura moved house, and amidst all the upheaval she stopped her regular routine. "Since I have been off the lamp my skin has been a lot worse," she says. "At any given time there are probably two or three spots that I can see that are going to come through.
"At the moment I have two enormous spots on my face that are infected, so I plan to go back on the lamp again as soon as I set up a routine. I look forward to soon seeing a real difference, all thanks to the light therapy!"
You might also like...