Hemp-based Salve Cured Eczema: A Case Study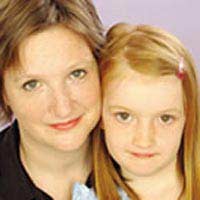 Natalie Balmond never thought that one of her daughters would ever suffer from eczema, so when her six-month-old baby started to get red patches on her elbows and behind her knees, she believed it would not get any worse.
But by the time Lula was 18 months old, she was covered in eczema from head to foot. "Her skin was raw and inflamed most of the time and she scratched herself until she bled every night," says Natalie, 43, from Brighton.
"She cried and screamed when we applied creams to her skin that the doctor prescribed, and nothing seemed to help. I lost so much sleep from her itching in the night that there were times when life seemed utterly unbearable."
Things got so bad that when she was a bit older, Lula begged her mum to shave her head, as applying creams to her scalp was so difficult. And it seemed that all different types of environments just made her flare-ups worse.
"Each time we saw a different doctor or specialist, I pinned my hopes on them having the answer," says Natalie. "But most conventional approaches involve the use of pretty strong steroids, and the more we used them the more worried I became about their long-term effect on Lula."
Over time, the family experimented with many approaches, from dietary changes to Chinese herbs - but nothing made a significant difference to the condition of Lula's skin.
"My partner and I were sleep-deprived, exhausted and desperate. When Great Ormond Street hospital wanted to admit her for two weeks of intensive steroid treatment, I felt like I was going to have a breakdown. "
Making Her Own Cream
At about this time, a friend gave Natalie a book about herbs, which explained their potential to cure all sorts of conditions ranging from psoriasis to cradle cap. She began to wonder whether she might be able to concoct an ointment at home, in her own kitchen.
"I concentrated on the four things that were making Lula miserable; the incessant itching, the soreness, the heat, and the inflammation. With this in mind, I selected herbs that I felt would alleviate her symptoms," Natalie says.
"I also discovered the benefits of hemp oil and decided to use it as a base for the ointment. Hemp is an excellent source of essential fatty acids, which eczema sufferers often lack. It took lots of changes and experimentation but I finally hit upon a combination that had an amazing effect."
Even before the final recipe was finished, Natalie noticed that Lula did not scream and flinch as her parents applied the ointment, like she had done with all the other products they had tried. And the final recipe produced startling results.
"Lula's skin was less angry and red, the broken skin began to heal and the itching was dramatically reduced," she says. "The difference it made to how she slept was incredible, so I continued to make endless pots for her over the months. She was like a different child and our lives were transformed."
Sharing the Batches
Natalie began making batches of what she dubbed Skin Salvation for friends and family, who interestingly started to use it not only on eczema but other ailments like psoriasis, dry skin, chapped cheeks and teething rashes.
"I soon realized that my potion wasn't a fluke, as other people found great relief too. I began to sell it at local school fetes and in one shop. When a local newspaper wrote an article about my discovery I became inundated with orders and I teamed up with a partner to start a business, Pure Potions."
Natalie has since gone on to make bath oil, a lavender nappy salve and chamomile baby oil, along with a range of rescue salves. Her business now receives literally hundreds of testimonies from eczema sufferers, all of whom have benefited from her ointment, and especially from parents who are incredibly relieved to have found a remedy which is safe and completely steroid-free for their babies and children.
"It brings me great joy to witness how helpful the salve is," Natalie says. "It goes without saying that I am very grateful that something so successful came from such a painful situation."
You might also like...