Non Steroidal Cream Stopped My Itching: A Case Study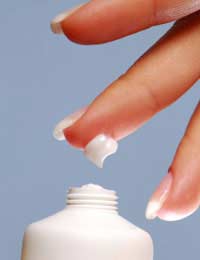 Writer Melanie Smith has suffered from eczema all her life, although she is the only one in her family with the often debilitating dry skin condition. But recently, she says she was "shocked" by her reflection in the mirror.
"Glaring back at me were two red-hot, inflamed, scaly patches of skin under each of my arms, which were sore and unbearable to look at," she says. "`It's a good job no-one else has to look at this,'" I thought."
Melanie, who's 28 and from west London, also suffered from occasionally unbearable itching as a result of the eczema. It had got to the point where the emollients and aqueous cream she had slapped on daily for months hadn't been enough to alleviate the itch.
"I found that only a good old scratch would resolve it, but I regretted it instantly every time," she says.
It was only on a family holiday this Christmas that she realised how bad things had become. She was stretched out on a sun lounger when she saw her mother staring at the state she'd scratched herself into, with a horrified look on her face.
"I really didn't know what to do about it," she says. "It felt like I'd quite possibly used the entire range of non-prescription eczema treatments on the market.
"But only hydrocortisone and a steroid-based prescription lotion kept the itching under control. Since these are both known to thin the skin, this worried me slightly."
Losing Hope
Melanie admits that she started to lose hope that her eczema would ever be cured, until earlier this month her mother heard of a new eczema treatment, Vivaderm Ultra. A non-steroidal cream, it is made entirely from natural ingredients and plant extracts, such as Calendula, Witch Hazel and Butcher's Broom.
"When I first hear about it, it left me slightly dubious to say the least. I just couldn't see how well could plants possibly work, especially as I've only ever found steroid creams to work.
"I decided to give it a try however, because there was a chance I could finally stop using such strong, unnatural remedies. What did I have to lose?"
Melanie was glad she gave it a go. "As soon as I applied the cream onto the affected areas, I could feel it working straight away. The intensely rich lotion cooled my skin, and after two days of using it, the inflammation had gone, the rashes had been soothed and I felt less inclined to claw at my underarms.
"A daily version of the lotion, which has the same ingredients but is less potent, has helped to keep my eczema under control. I went from believing that my skin would never heal to having almost completely clear, less itchy skin in a matter of days."
Keeping Everything Under Control
Melanie says she would recommend both creams to anyone battling to keep their eczema or dermatitis under control.
"They have, to use a cliché, saved my skin. I tried so many different products that are on the market, and nothing really worked. The emollients were always too thick or too greasy, and it was really refreshing to have a cream you can use whenever, any time of the day, that really works."
Vivaderm is free of paraffin oils, paraffin waxes and paraben preservatives, and has no artificial colourings and fragrances.
"It works just as effectively as hydrocortisone, and it is completely natural, so you can use it as frequently as you want," says Melanie.
"Eczema is such a pain, as it is really difficult to find a product that works. This one cleared up my rashes and the itching really fast. I have really enjoyed it!"
You might also like...
I was excited to hear about Vivaderm Ultra, I went to Scarlett and George for more information, looked for it in the links they suggested but it doesn't exist any more. Did it change its name? perhaps. Would love to know if its still out there. thanks Andrea
AndreaM
- 21-Mar-19 @ 7:09 PM