Can Diet Help Eczema?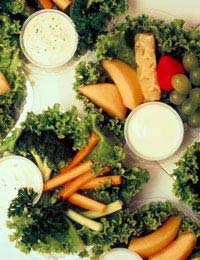 Although eczema is known to be a genetic disease the actual cause of the condition is yet unknown. However numerous studies and research findings do point to a correlation between food allergies and the flare-ups of the condition. Since the link between food choices and eczema is so strong it is commonly thought that dietary changes can in fact help treat this uncomfortable condition.
The Common Link
Food allergies are very common in a large number of people, especially those suffering from eczema. When these people consume these foods allergic reactions in the body occur. In the case of eczema some foods may cause a flare-up of the disease while other foods may make the flare-ups worse once they occur.
While not all foods will cause flare-ups for all people, and not all foods will cause the same reaction, there are some foods that are commonly known for causing problems for people with eczema. These foods, or flare-up triggers, include dairy products (especially cow's milk), wheat, yeast, eggs, nuts and fish (especially shellfish).
While you could limit or restrict altogether your consumption of these eczema trigger foods, it is best to document your reactions to each one individually in order to decide which ones are actually triggers for you. By doing so you can devise a diet that helps your eczema and still allows you to enjoy the foods you love.
Document Your Triggers
The best way to unearth your particular food triggers is to document your eating habits in a food journal. In order to be effective this journal must be very detailed and must include information such as what you ate, how much you ate, and the time that the suspect food was eaten. By documenting the time and the amounts you can better determine if that particular food or maybe some other trigger caused your next outbreak.
In order to distinguish between a foods related outbreak and an outbreak caused by another trigger it is best to repeat the same food test a week after the flare-up has cleared. Since an outbreak that is food allergy related would usually occur with two hours to 24 hours you can consume the suspect food and also avoid any other triggers for at least 24 hours. If the condition flares-up again you can be pretty sure that the food item in question is a probable trigger.
Another way to guarantee the effectiveness of your food journal is to limit your experimentation to one suspect food item at a time. For example, for the first week of the journal only consume foods that are not pragmatic and dairy products. This way if you do suffer from an eczema flare-up you will know it was the dairy product that could have caused it.
Detailed food journals can also be helpful when discussing your condition with your doctor. By tracking your diet faithfully you will allow your doctor to determine which foods he or she thinks it is best for you to avoid.
While it may take many months of trial and error, and many days of detailed documentation, a food journal can be a great way to help you control your condition with diet.
Eat for Healthy Skin
Another great way to control your eczema through diet is by adopting a healthy skin eating plan. A diet rich in nutrients, antioxidants, and water will definitely help support optimal skin function. And when your overall skin health is good your eczema outbreaks will naturally lessen.
To get the most out of a healthy eating plan be sure to consume plenty of raw fruits and vegetables. These items will supply adequate amounts of antioxidants, vitamins, and minerals and lead to better overall skin health.
You will also want to include food choices, such as olive oil, avocados, and nuts that are high in fatty acids. These foods will help reduce the inflammation associated with eczema.
Also make sure that your diet plan includes adequate hydration. By drinking more than the recommended eight glasses of water each day you can make sure that your skin is properly hydrated. This boosted hydration can help prevent the dryness that is sometimes a trigger for eczema flare-ups.
By combining the healthy choices above and faithfully keeping a food journal you can quickly and effectively be on your way to controlling your eczema with diet.
You might also like...