Looking After Sensitive Skin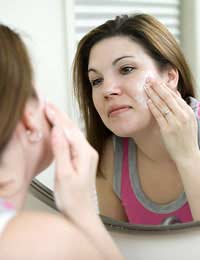 Everyone knows that proper care and cleansing is important to getting great looking (and feeling) skin. However individuals with sensitive skin have to take a few extra precautions in order to keep their skin looking its best. Looking after sensitive skin can sound like a big job but once you understand the properties and added concerns of this skin type you can easily achieve the results you want with very little time.
Is Your Skin Sensitive?
Before you go changing your skincare routine you need to make sure that you actually have sensitive skin. In some people other skin conditions, such as eczema, sun damage, and rosacea, are confused with sensitive skin. If you have one of these other skin conditions you will need to take different precautions with your skin in order to keep it healthy and glowing. In order to determine if you have sensitive skin you first need to rule out other medical conditions. If you suffer from allergies, experience dryness, itching, and flakiness year round, or notice redness to your skin that does not respond to changes in skincare routines then you may need to see a dermatologist or doctor to rule out disease.
If you do not suffer from any of these condition yet you still experience skin problems you may have sensitive skin. The symptoms of sensitive skin include temporary redness, breakouts, rash-like appearances, itching, excessive skin irritation, and sometimes swelling.
If your skin is sensitive you will notice these symptoms after washing with regular soap, sweating profusely, after the application of any soaps or skincare products that contain fragrances and dyes, after exposure to the sun, harsh winds, extremely hot or cold temperatures, and after facial treatments like hydrating masks or exfoliation.
If the above description characterises your skin then you have sensitive skin. Now that you know what is wrong it will be easy to treat and take care of with the right skincare routine.
The Right Skincare Routine
There are numerous cleansers, toners, moisturisers, and other skincare products on the market today that promise to do all sorts of wonder things for your skin. These products claim to prevent ageing, reduce wrinkles, tighten and firm, restore youthful glows, and eliminate discoloration. However, very few of these products are gentle enough for use on sensitive skin. The key to looking after sensitive skin lies in recognising the ingredients that are good for it.
A sensitive skin care routine should start with twice-daily washing with the proper cleanser. If you have sensitive skin it is imperative that you wash your face at least twice a day to remove grime and dirt that can cause irritation. However, this frequent cleansing can be too harsh if you do not choose the right cleanser and cleaning method. Do not choose a cleanser that contains abrasives, fragrances, or dyes. And, steer clear of any cleansers that list alcohol as an active ingredient. Finally, do not use a rough washcloth or sponge to rub in the cleanser. Since aggressive rubbing can damage the skin it is best to wash sensitive skin with only your hands in a gentle circular motion.
The next step in looking after sensitive skin is making sure that you apply the right moisturiser. Many moisturising creams can be too rich and heavy for sensitive skin. These creams can lead to block pores, skin irritation, and acne breakouts. A light, water-based moisturiser is best. Look for one that does not contain mineral oil, lanoline, or other greasy ingredients. Once you choose the correct moisturiser be sure to apply it twice a day after cleansing.
The final step in any sensitive skin care routine should involve the application of a sun block. Sensitive skin is more reactive to the harmful effects of the sun and can suffer from excessive redness, burning, breakouts, and other damage after just a few minutes of exposure. Be sure to apply a sunscreen with an SPF (Sun Protection factor) of at least 15 everyday before you leave the house.
Just by following the above routine you will see vast improvements in the condition of your sensitive skin. However, by taking a few extra steps you can really bring out the beautiful glow of healthy skin.
Additional Tips for Sensitive Skin
Aside from following a great skin care routine there are a few other things that you can do to reduce skin irritation and bring out the health of your skin. The following tips can help you achieve long-lasting beauty and the elimination of sensitive skin problems.
Go for facial - Professional facials that are designed for sensitive skin can help sooth skin irritation and help repair previous damage.
Use pure or mineral based make-up - If your skin is extremely sensitive it is best to forgo the use of make-up whenever you can. By going natural you will allow your skin to breath and keep it free from harmful chemicals. However, if you must wear make-up make sure that you apply it as lightly as possible and always choose products that are designed for sensitive skin. Look for products that are non-comedogenic, hypoallergenic, and fragrance free.
Never, ever wear make-up to bed - Sensitive skin is extremely susceptible to irritation. The longer you leave make-up, dirt, or chemicals on your skin the more likely you are to suffer breakouts and other skin problems. No matter what happens always wash your face before retiring to bed.
Avoid touching your face - By minimising contact with your face you can avoid transferring dirt, oils, and other irritants to your skin. If you face itches or you need to wipe off some sweat or dirt, do so with a clean tissue or cloth.
Looking after sensitive skin can be simple if you have the right facts. And, the extra precautions are more than worth it when you see the results of your efforts glowing back at you in the mirror each morning.
You might also like...
i live in spain and have been under the hospital they have told me i have sensetive skin could you advise me which prouducts are best because i will have to get them from england hope you can help violet