Rosy Cheeks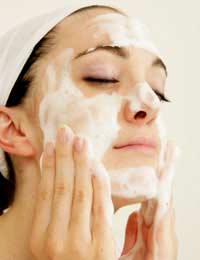 Rosacea also known as rosy cheeks, is a common skin condition that affects over 45 million people worldwide. While there is not currently a cure for this sometimes embarrassing and unsightly condition, there are ways that its signs and symptoms can be treated and minimised.
In order to utilise the many treatment option, you will first want to make sure that your condition is really rosacea. Sometimes other, more serious medical conditions can co-exist with or be mistaken for rosacea. By checking your symptoms with the symptoms for rosy cheeks you can assure that you are seeking the correct treatment and not missing another important sign or condition.
Signs and Symptoms of Rosacea
Rosacea, or rosy cheeks, is usually described as a rosy, red, blotchy colouring of the face. This redness resembles a blush or sunburn in appearance and occurs mostly in the cheeks and centre of the face. The redness or flushing can come on without warning but many rosacea suffers notice an increase in colouring after exercising, showering or bathing in hot water, and after eating spicy foods or drinking red wine.
Other symptoms of rosy cheeks include the appearance of dilated blood vessels on the face, particularly on the nose and cheeks, the occurrence of blood shot eyes even when well rested, and the sensation of gritty or rough feeling eyes upon waking. In more severe cases of rosacea red bumps that resemble acne can also develop on the skin.
If you are suffering from these symptoms and you have a family history of rosacea, are fair-skinned, and are of English, European, Irish, or Scottish descent then you have probably developed rosacea.
After scheduling an appointment with a doctor to confirm your condition you need to begin treating the symptoms of the condition both at home and under a doctor's care.
Caring for the Condition at Home
While you cannot cure rosacea you can help prevent flare-ups of the condition and speed the recovery time of the symptoms once they have developed with a few lifestyle changes.
Your rosacea treatment should begin with your skincare routine. Always wash your face with a non-drying cleanser and avoid any facial applications that contain alcohol or astringents. Also avoid rubbing your skin too hard or the use of a harsh cleansing cloth. After your skin has dried apply any topical medication you have received from your doctor and follow that with a rich moisturising cream. Choose a moisturiser that is labelled for sensitive skin and one that includes the words non-comedogenic and hypoallergenic. Finish your skincare routine with the application of a sunscreen with an SPF (sun protection factor) of at least 15.
To further help prevent rosacea flare-ups you should avoid exposing your skin to extreme cold or heat. In the winter make sure to wear a scarf that you can pull over your face, and in the summer wear a wide-brimmed hat to shade your skin.
Finally, you can best avoid flare-ups of rosy cheeks by avoiding things that trigger your symptoms. Eliminate spicy foods and red wine from your diet. If you find that certain others foods led to flare-ups you will need to avoid those too. You can also regulate the temperature of your bath water so that is just warm enough but not too hot for your skin. Finally, choose an exercise routine that gives you plenty of cardiovascular benefits but that lead to the onset of rosacea symptoms. Swimming, walking, and yoga are good options to try.
Along with a well-planned home treatment routine you will also need to follow your doctor's advice for treating rosacea.
Medical Treatments for Rosacea
When you first present your symptoms to a doctor he or she may prescribe a round of oral antibiotics and a topical antibiotic cream to help bring the condition under control. Once the symptoms disappear the topical medication will be continued to control the condition for the long-term.
The most common oral antibiotics prescribed for the treatment of rosacea are doxycycline, erythromycin, and tetracycline. The most common topical antibiotic is metronidazole. Your doctor will advise you on the proper use of these medication and their potential side effects.
Once you have been diagnosed with rosy cheeks, started the appropriate medical treatment, and made some simple lifestyle changes you will find that the condition is not as hard to live with as you first believed.
You might also like...