All About Shingles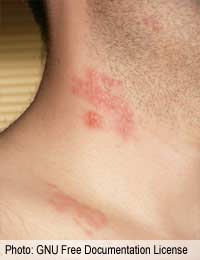 Most people catch chicken pox before they are aged 10. In the vast majority of cases, this common childhood illness causes little or no problems, except for the appearance of tiny, raised bumps and accompanying itching.
If you're lucky, you'll be left with little more than a tiny scar or two to show you've lived through this childhood rite of passage, as well as memories of unbearable itching and lashings of calamine lotion.
Some people, however, are left with another souvenir of the pox, although this souvenir is one that won't show up for many decades later: shingles.
What is Shingles?
Caused by the same virus that causes chicken pox, the varicella-zoster virus, shingles is an adult illness that usually strikes people aged 50 and over.
It occurs when the chicken pox virus, which can lie dormant in your body for decades, decides to re-emerge: this time, in the form of an extremely painful, red rash.
You will know you have shingles as it occurs on one side of the body or face only, and looks like a series of fluid-filled blisters. It can be accompanies by a fever, chills, itching and/or upset stomach, but these symptoms do not always accompany shingles.
Shingles can reappear when the sufferer is worn down or experiencing a period of undue stress, and can be dangerous for those with a compromised immune system or other health problems. It can also be harmful to pregnant women and adults who have never had chicken pox. Adults who were vaccinated against the pox, but never had it, can still suffer from shingles.
Causes of Shingles
Shingles are caused by the chicken pox virus, which in effect lies dormant in the body until it reactivates again in a slightly different form. You cannot get shingles unless you have had chicken pox or the vaccine against it.
Nobody knows exactly why some people get shingles and others don't. You are more likely to suffer from shingles, however, if you experience some of the following:
Bereavement
Grief
Undue Stress
Trauma
Compromised Immune System, including cancer or HIV
Complications from Shingles
About one-fifth of people who get shingles get "post-herpetic neuralgia", a nerve condition which makes the area extremely painful to touch, even after the initial infection has cleared up. This can last for up to a year or more, although for many people it stops at about four months after the shingles rash has disappeared.
It is unclear why this occurs, but you are more at risk if you are older (age 70 and above) when you first contract shingles, if you experience a lot of pain from shingles, and if the rash is widespread. It is thought that the underlying cause is nerve damage caused by the shingles, making the nerves more sensitive to outside stimuli.
To stop people from developing shingles as well as post-herpetic neuralgia, a relatively new vaccine has been developed. The Zostavax vaccine is sometimes offered to people aged 60, who are at risk of contracting shingles.
Other Complications from Shingles
A relatively small number of people, primarily those with compromised immune systems, will develop other complications besides post-herpetic neuralgia as a result of shingles. They include:
Bacterial skin infections. Because of the prevalence of blisters opening and popping, bacterial infections are common with shingles. See your GP for treatment to avoid infection.
Eye damage. Shingles near the eye can result in permanent eye damage unless antiviral treatment is undertaken. See a doctor at once if you have shingles near your eyes.
Paralysis. While shingles normally affects only the skin, in rare cases it can affect the muscles as well. Most people who suffer any paralysis as a result of shingles make a full recovery.
Meningitis. Can be caused by the varicella-zoster virus, which causes chicken pox and therefore shingles.
If you do contract shingles, there are ways to alleviate the problems accompanying this condition. Taking antibiotics the first time you experience shingles can lessen the rash's severity, so see your GP straightaway.
In some cases, taking certain antidepressants can help make the condition more bearable, as well as both topical and oral pain medications. Ask your GP for more information in dealing with this unpleasant yet relatively common condition.
You might also like...
@Mona - you never think that you could get shingles from a tattoo. But I suppose if the needles is infected with someone who had shingles when getting a tattoo, then that's pretty serious.
GH
- 13-Mar-18 @ 11:08 AM
I developed shingles at age 45 about 11 years ago. I never saw much of a rash. Yet my case was the worse my doctor had ever seen. It was brought on by getting a tattoo. The pain as it ripped and destroyed nerves and muscle almost killed me. I had it for 6 months. I was left with lingering stabbing pain. To this day the pain gets so bad I can not sleep. If I could go back in time I would never have gotten that tattoo.
Mona
- 12-Mar-18 @ 3:58 PM
I have scleroderma & partner has just had shingles - very, very interesting! Always good to know exactly thewhat and why and wherefores!
Sands
- 2-Jan-12 @ 9:09 PM