Getting a Tattoo Removed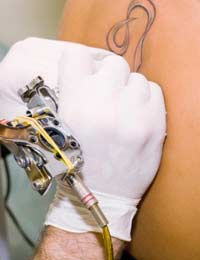 It's a sad fact of life that some people decide after having a tattoo that perhaps they really don't like the design any more, or it's just not appropriate.
You can have unwanted tattoo designs removed in several different ways, some ways are more successful than others in completely removing the tattoo. A lot depends on the size and design you've chosen, the pigments and where the tattoo is situated.
Who Can Remove My Tattoo?
It's worth making an initial visit to your GP because you might be eligible for tattoo removal on the NHS. It's only available on the NHS in rare circumstances, and it can be a bit of a postcode lottery, but some areas will make exceptions. Your doctor will be able to give you advice on the different methods, and what's best for you. You can also ask for a referral to a reputable cosmetic surgeon.
You sometimes see budget tattoo removal services advertised in magazines - but don't go for the budget option when you're having a cosmetic procedure. Find someone that's registered with the British Association of Aesthetic Plastic Surgeons (BAAPS) or the British Association of Plastic Surgeons, for peace of mind.
Find out from your surgeon what options are available, ask about success rates for all of them, and ask how long the surgeon has been carrying out these procedures.
Different tattoo removal methods tend to be favoured by different people and what's best for you will depend type of tattoo you have.
What Are The Main Methods?
Large, or very detailed tattoos are usually removed by:
Laser treatment: this is where laser light is sent into the tattoo. The laser passes through the upper layer of skin, and is absorbed by the pigment in the tattoo.

These particles heat up and break into even smaller pieces which are eliminated naturally. There's very little risk involved if you opt for laser treatment, although it can be uncomfortable. There can sometimes be scarring or pigmentation as a result, and rarely the pigment reacts with the laser, and the skin actually darkens.

Laser treatment is quick and effective but can often take more than one treatment to achieve the desired effect, as well as being uncomfortable. Treatment can also cost a lot of money.

Dermabrasion: this treatment involves the skin being treated with chemicals which break up the tissue - while the top layer of the skin, containing all of the tattoo pigment, is physically rubbed away. There's a possibility of scarring with this option.
Vaporisation: This is where a carbon dioxide laser is used to get rid of a tattoo - this method can also lead to scarring.
How Long Will it Take?
Removing body art is usually done under a local anaesthetic and can also be done with sedation, to stop you worrying about any pain. Most methods do tend to need several treatments as it's hard to get the tattoo as pale as you want. You probably won't ever remove it completely, unless it's physically cut out.
Tattoo Removal Creams
There's absolutely no evidence that creams and lotions which claim to remove tattoos actually work, and they are very expensive. Medical experts dismiss claims that a cream can dissolve a tattoo, and the Tattoo Club of Great Britain agrees with them. Once you've had a tattoo or body art, it's a bit like a dog - for life and not just for Christmas. Don't ever go into having any tattoo etched without a lot of thought beforehand, as removing it later can be painful, expensive and time consuming...
You might also like...