Can You Wash Your Skin Too Often?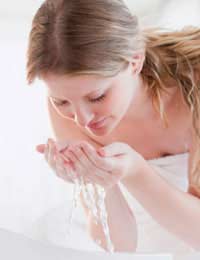 Everyone wants to have clean, healthy skin, and one way we think we can achieve that goal is to pay strict adherence to a good cleansing routine.
But did you know that washing too often can actually harm your skin, and do more harm than good?
Washing your skin too often not only takes away the dirt, but also takes away the good oils, which then makes your skin dry out.
And as we all know, when skin is too dry it releases more oil to compensate, which will make you more prone to blemishes and irritation.
Top Tips for Healthy Face Washing
Here are some top tips to avoid drying out your facial skin, and keep it looking clean and fresh:
Wash your face only twice a day, morning and night.
Avoid cleansers that contain alcohol, as alcohol will dry out skin even more.
Use blotting paper to soak up oil instead of washing it all off, which will just encourage the production of more oil.
Bar soaps tend to be the most drying, so avoid them like the plague. Use a creamy cleanser if your skin is dry, and a clear one if you are prone to oily skin.
Wash with lukewarm water, not water that is too cold or too hot, as this can result in broken capillaries.
Exfoliate daily using a gentle exfoliator, and apply a good moisturiser after your face is washed. Always wear suncream and drink plenty of water.
Hand-Washing
Washing your hands often may seem like a good way to get rid of germs, and there are certain professions where constant hand-washing is necessary. If you work in a baby nursery, for example, you would need to wash your hands after every nappy change, and before every feed.
Washing hands often can take a toll on your skin, and can result in inflammation and even spark certain conditions such as dermatitis. If you use harsh soaps, or even basic anti-bacterial soaps, too often, you may also upset the delicate balance of your skin, as they strip it of all moisture.
If you need to wash your hands a lot, make sure you use a fragrance-free soap (or non-soap cleanser) that is gentle and kind to skin. And always apply a moisturiser after washing, if possible, to help your hands stay hydrated.
Washing your hands an excessive amount, when there is no real need to, can be a sign of other problems. If you wash your hands 15 times or more per day and don't work in an environment where this is necessary, you might want to talk to your GP to ascertain why this behaviour has manifested itself.
Body Beautiful Tips
Excessive bathing is not good for the skin, but an average adult should bathe at least once a day to avoid bacteria building up on the skin, as well as sweat.
Some professions, obviously, may warrant more frequent bathing, but the one-a-day rule is good for most people.
If you have very dry skin, you might worry that daily bathing can dry your skin out even more. These tips can help keep your skin from drying out too much:
Use a mild, perfume-free moisturiser such as aqueous cream in place of soap.
Every few days, take a bath in neutral bath oil, such as Oilatum. Avoid perfumed bubble baths and other substances that can irritate the skin.
When you get out of the bath or shower, pat yourself dry instead of rubbing yourself briskly with a towel. This will help to retain more moisturiser, which you must apply EVERY TIME you bathe. You can even use a light olive oil – applied to wet skin – to help seal in the moisture.
Never bathe in water that is very hot, as that will dry your skin out even more.
Everything in Moderation
Washing is not only good for the skin, it's also good for the soul. A warm bath at the end of the day helps recharge our batteries and relax us at the same time, and prepares us to face what lies ahead.
Washing too often, however, strips the body of essential oils and can dry out our skin. As with everything, moderation is the key!
You might also like...