Facials and Exfoliation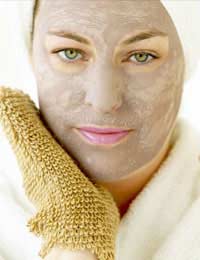 Facials and skin exfoliation are an important part of general skin maintenance. Facials which include deep cleansing, exfoliation, moisturising, mask application, and sometimes massage, are great for removing impurities, toning the skin, and producing the healthy glow of good skin. Exfoliation, an essential step in facials that can also be performed alone, is used for the removal of dead skin cells to produce younger, smoother, healthier looking skin. If you want the best looking skin possible you need to check into the varied benefits these two procedures can provide.
Reaping the Benefits
If you want the most benefit from a skin care routine you need to invest in a professional facial at least four times a year. Since a facial includes multiple skin-healthy steps you get better results than from just exfoliation alone.
A good facial will start with deep cleansing. The cleanser will remove dirt from deep within the skins pores and prepare the skin for the remaining steps. The next step is skin analysis. This step will allow the technician to determine your individual skin type- dry, oily, combination- and also help them uncover any special needs that your skin has, like wrinkles, blemishes, or sun damage. The next step involves a steaming treatment that softens the skin and allows for the extraction of blackheads or whiteheads that are obstructing your pores. This step may also include exfoliation with a grainy facial scrub to further clean out clogged pores and to remove dead skin cells on the surface that can trap unwanted dirt and oil.
Once the skin is completely clean and free of clogs, the technician will choose a moisturiser based on your skin type and needs and perform a facial massage to work in the moisturiser. The final step is the application of a mask that is targeted at your personal concerns. Many popular mask choices include those aimed at anti-ageing, wrinkle reduction, acne treatment, and discoloration fading.
Once the facial is completed you will enjoy smoother, clearer, more hydrated skin. This healthy looks usually lasts for about 4 to 6 weeks, which is the time it takes for skin to regenerate and new dead skin cells to build up on the surface. However, your results and the amount of time that they last will also depend on what type of exfoliation you choose.
What Type is Right for You?
Exfoliation, whether used alone or as part of a facial procedure, is very important to the health of your skin. By removing the utmost layer of dead skin cells, exfoliation can help your skin absorb moisture better, reduce the appearance of wrinkles, improve the look of acne breakouts, and help foster the evening out of skin coloration. To get the most out of the exfoliation process you need to choose the type that is right for skin and your skin problems.
Manual exfoliation is the act of using a topical facial scrub product or a washcloth and special cleanser to soften and remove dead skin cells. This type works best on normal skin and can easily be performed at home. However, since this type of exfoliation can be a little rough on the skin it is not recommended for sensitive skin or skin that is prone to acne breakouts.
If your skin is prone to acne breakouts you may want to try a form of chemical exfoliation. This type involves the use of a gel, cream, or lotion that contains lactic or glycolic acids that are used to loosen the dead skin cells without harsh scrubbing or the use of friction. These products are applied to the skin, allowed to set for a certain period of time, and then gently washed away to reveal smoother, softer looking skin.
For sensitive skin needs your best bet may be an enzyme exfoliation system. This form is similar to the one used for acne-prone skin in that it does not require scrubbing so it minimises skin irritation. However, the exfoliation is different because it relies on proteolytic enzymes usually found in pineapples and papaya to dissolve dead skin cells.
If you are receiving a professional facial your technician will explain the different options for exfoliation and help you decide which one is right for you. However, by getting to know your skin type you can buy products that are right for skin and perform the procedure at home.
Getting the Benefits at Home
Many over-the-counter beauty products are available at your local super store for the performance of an at-home facial. These products will describe which type of skin and what skin problems they are most effective for right on the label. However, since the price tag of these specialised products can get a little steep, you should also look into a few simple treatments you can make at home.
For normal skin you can use oatmeal as an excellent exfoliate. Simply place the oatmeal in a washcloth or cheesecloth, dampen with warm water, and gently scrub the surface of your skin. For even greater results you can combine the dampened oatmeal with baking soda and apply the combination as a mask after exfoliation.
For oily, acne-prone, or combination skin types a mask made with regular aspirin and some added ingredients is very effective. To begin crush 3 to 10 tablets of aspirin and mix with distilled water. For oily skin add a few teaspoons of honey. For acne-prone skin add yogurt. And for combination skin add a few teaspoons of aloe vera gel. Once the masked is mixed apply it to clean dry skin. Allow the mask to dry, as this is the time when the mask will soften the dead skin cells for easy removal. Once the mask is dry, wet a cotton ball or the corner of a washcloth and gently scrub the mask over your face in small circular motions. This will help lift the dead skin and open the pores. Once the scrubbing is complete rinse the mask off with plenty of warm water.
No matter how you go about reaping the benefits of facials and exfoliation, make sure that you add the step into your skin care routine as soon as possible. The sooner you start enjoying this beauty procedure the sooner you will start seeing smoother, younger looking skin.
You might also like...