Keeping Pores Clean and Avoiding Infections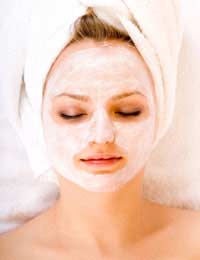 The skin pores on your face are very susceptible to clogging. Things like oil dirt, grime, and make up or other skin care products can get imbedded in the pores and cause problems. One of these problems is infection. One example of this type of skin pore infection is acne. In order to avoid infections and other skin problems or blemishes, it is best to practice a skin care routine that keeps your pores clean and unclogged daily.
Why Do We Have Pores?
The pores that make up your skin structure are responsible for allowing three main things to happen through your skin: hair growth, sweating, and oil release. Sweating is our body's way of regulating our temperature and the release of sebum (or oil) is the body's way of moisturising the skin to keep it supple and help it combat infection.
When pores become blocked with dirt or excess oil they cannot allow the release of sweat or sebum. When this happens to enough pores things like infection, acne, and other blemishes occur.
How to Keep Your Pores Clean
The best way to avoid these skin problems is by keeping your pores as clean and healthy as possible. This can be accomplished through the use of special cleansers and creams, through skin exfoliation, and through facials.
Skin cleansers and creams that contain Alpha Hydroxy Acids, retinoids, salicylic acids, or glycolic acids are quite effective at removing the substances that clog pores. These ingredients break up the unwanted matter in pores and soften the skin around the pores that holds the grime inside. When you use these products daily during your regular cleansing routine you can help prevent infections and blemishes.
Exfoliation- the process of removing a layer of dead skin cells from the surface of the skin- can help open up clogged skin pores and keep pores clean deep down. This process removes the dead cells and allows healthier skin to show through. Also, by removing the dead cells, it allows the pores to remain open so that they can release sebum and sweat for a naturally healthy glow.
Facials are a combination option for keeping pores clean. These treatments involve both the use of special pore opening cleansers and exfoliation. However, facials also usually include the application of a mask, which further deep cleans pores and even works to shrink the size of those pores so that they are less likely to become clogged again.
Taking Care of Your Pores
You can easily use all three of these techniques at home to keep your pores in perfect condition. However, many individuals enjoy the experience of a professional facial. Even if you would prefer to perform your own facial it is well worth the price and time involved to receive at least one professional facial. That way you can experience the real thing and use the steps as an example when putting together your own pore cleansing routine.
Whatever method you choose, it is obvious that keeping your pores clean is an important step in any person's routine. Not only will you easily avoid skin infections, blemishes, and other skin problems, but you will also enjoy smoother, healthier looking skin. Best of all, you will keep your pores working at their optimum and allow your skin to do the job it was designed to do.
You might also like...
I have pimples on my face and my skin is also very dry ....so tell me what I can do...
Prerna
- 16-Mar-16 @ 11:06 AM
i have been experiencing yellow color pimples on my face. some are small, sometend to get large. i just wanted to know what are the reasons for them and how come i can get rid of them.
vaiz
- 1-Sep-12 @ 11:57 AM