Giving Medicines to Babies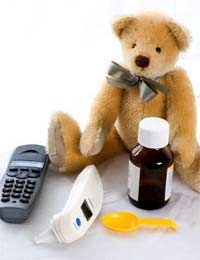 Trying to coax a baby into taking his or her medicine can be difficult but equally as important as giving the medicine is making sure you are safe to do so and know exactly what issues may arise.
Buying the Right Product
There are very few medicines that can be given to babies under three months unless your baby is taking very specialised medicines for known medical conditions. It is also unlikely that you will find many cough medicines that can be given to those under one year of age, so checking the bottle and the indications for use is essential.
Using a Plastic Syringe
If your baby is very young., it is probable easier to administer medicines using a plastic syringe. Syringes can be easily sought from either your GP or pharmacy and they should be clearly labelled with measurements so that the right dose can be given.When giving medicines with a syringe, make sure you do not put the whole syringe in the mouth as this may make your baby gag or cause damage to his or her soft palate. Instead, simply aim the syringe to the roof of the mouth near the back of the throat as this will encourage your baby to swallow it properly.
Make sure the syringe is dismantled for cleaning and suitable for use I whichever sterilising unit you are using.If you do not have a steriliser, make sure the syringe is taken apart and submerged in boiling water for several minutes before the next use, making sure it has cooled before use.
Using a Spoon
If your child is slightly older he or she may be safe to take the medicine from the spoon, but small babies may struggle to take the medicine this way. It is likely that the spoon will be too big for the baby's mouth and some will spill. If this happens it can be tempting for the parent or carer to pour more medicine onto the spoon to make up for the spillage but this is extremely dangerous and you may end up over-dosing your baby.If you are going to use a spoon, make sure it is clean and sterilised if the baby is under 6 months of age.
Getting the Dose Right
Always check the instructions on the bottle as older children may be given larger dosages than younger children, and often medicines that you think you can give to babies (for example when they are teething) may not be given at all and you may be putting your child in danger.
If the label has come off, been covered up or is not readable anymore, do not give it to anyone. See your pharmacist for a replacement and so they can discard the damaged bottle.Do not dilute the medicine with anything else thinking it will be easier for your child to take as some preparations are designed to be take all at once without any other product; this may interfere with the way in which it absorbs, is processed by the body and ultimately how successfully it works.
Storing your Medicines
Even if your baby is only very small and is not yet mobile, it is best to get into the habit of keeping your medicines safe and away from wandering hands. This is especially important if you have friends or family who visit as you may have forgotten that the medicines are easily accessible as you are not used to having a little one around.Medicines should be stored in a high up cupboard or lockable cabinet and checked often to make sure they have not gone past their use-by-date.
Always read the bottle or packaging to make sure they do not need to be stored in the fridge as many people often store things in the cupboard that need to be chilled, or vice versa and chill products that need to be kept at room temperature.Always leave the label intact so that you can easily identify the product, read the dosage to be given and see the expiry date.If you are given prescription drugs and do not use the entire contents, these can either be discarded as advised or returned to your GP or pharmacist for safe disposal. Never keep prescription medicines for use by someone else; this is extremely dangerous, even if you are quite familiar with the drug.
Giving medicines to babies can be tricky but often necessary; if you ever have any questions or doubts about giving your baby his or her medicine, speak to your Practice Nurse, GP or Health Visitor for more advice.
You might also like...