Eat Your Way to Fabulous Skin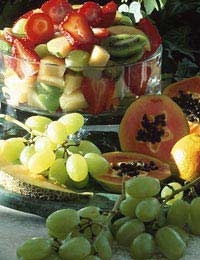 Healthy skin equals fabulous skin and, since skin is essentially an organ of the body, healthy skin begins on the inside. That is why a diet rich in "good for your skin" foods is so important to achieving the fabulous look and feel that you are after.
Skin needs a multitude of nutrients to stay healthy and perform at its best. Proper Hydration is important in keeping your skin smooth, plump, and wrinkle-free. Antioxidants are important in fighting the battle against ageing skin. Essential fatty acids help Decrease Wrinkles and lubricate skin cells. And, healthy or "good" fats promote improved heart function, which speeds delivery of all nutrients to the cells of your skin.
What You Need
Knowing what nutrients your skin needs to look fabulous is just half the battle. The other half is understanding which foods will deliver these nutrients and offer the best results.
For proper hydration, which results in smoother, more supple skin, start by drinking plenty of water. Water accounts for up to 70% of your body's make up so proper hydration is important to all functions and organs, especially your skin. To further boost your water intake focus on eating foods that contain a high water content, such as celery, tomatoes, bell peppers, leafy green vegetables, melons, grapes, and oranges.
For wrinkle-free skin, you need to consume foods high in antioxidants. Antioxidants help fight skin ageing and can be found in foods like blueberries, lemons, oranges, cantaloupe, leafy greens, broccoli, and sweet potatoes.
For more supple skin, which equals smoother skin, you need to consume foods rich in essential fatty acids. These good fats provide lubrication for your skin cells, anti-inflammatory qualities, and also boost the function of your cardiovascular system. When your heart is working well it delivers more nutrients to your skin, which your skin can use to rebuild and replenish itself. Great choices for this food category include olive oil, olives, tuna, salmon, trout, and other fresh fish.
What to Avoid
Along with consuming a diet geared for fabulous skin you also need to cut a few items out of your diet for the best results. Foods that are high in caffeine, contain lots of refined sugar, or that contain white flour can delete water stores, increase the occurrence of wrinkles, and speed the signs of premature ageing. For fabulous skin avoid soft drinks, coffee, tea,
Alcohol
, sugar-laden candies, cookies, white bread, and pastas.
Get an Even Bigger Boost
Once you have tailored your diet to reflect fabulous skin choices you can get an even bigger boost in results by supplementing your diet with a multi-vitamin. Even though your new food plan will include numerous ways for your skin to get a wide range of nutrients, a multi-vitamin can help ensure that you are getting all of the recommended values of every mineral and vitamin. For the best results and the most beautiful skin, take a supplement that provides adequate amounts of vitamins B1, B2, B6, B12, calcium, iron, and folic acid.
By combining a varied diet rich in "good for your skin" foods and the proper supplement you can be on your way to enjoying fabulous skin in no time.
You might also like...