Practical Make Up Suggestions For Problem Skin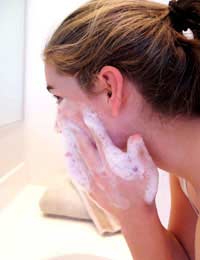 There are plenty of things you can try to lessen the impact of problem skin - not only make up ideas for females but nutritional and 'invisible' make up suitable for men, too.
What you eat can make a big difference to your skin, too, so if you are plagued by difficult skin, make sure you get a varied diet. Plenty of different coloured fruits and vegetables will ensure you get the right vitamins, with avocados being particularly good for improving skin texture and smoothness.
First off, it is worth making sure that the products that you use are suited to your skin - look for the word 'non-comodogenic' which means that it wont clog pores and should be on your moisturisers, cleaners and makeup. Do not fall into the trap of using harsh toners and facial washes for 'spotty skin' - these are too strong for problem skin and will actually dry it more than you need. It is better to have gentle, natural products that will care for your skin rather than strip it of too many oils.
If we assume that you do not want to wear a full face of make up every day, let's look at some ideas suitable for men, women or both.
Make Up Ideas for Women
It is far more socially acceptable for women to wear make up. However, you will still not want to look caked in foundation nor have your difficult exacerbated by covering it in lotions and potions.
Rather than use a heavy foundation all over, you could invest in a really good concealer that you can use sparingly on spots and blemishes. There are 'professional' brands available in larger department stores that have a far greater pigment in them than the cheaper, high street brands. Although they may seem expensive, you will feel so much more confident knowing it will last all day and will not end up buying and trying four that would add up to the same price anyway.
A long lasting formulation tinted moisturiser and/or loose powder will help to set your concealer and give you a natural finish. It is best to start with a clean face - use a good wash-off cleanser and gently pat your face dry. Then, using slow circular motions, apply a light moisturiser. A good quality brand is worth buying - treat yourself to an afternoon shopping and find a brand suited to your skin that you will feel good using. Wait for five minutes for your moisturiser to settle, then, if you like, apply a light film of tinted moisturiser or foundation - make sure to blend over your jaw and hairline. Then using a small brush, your finger or a cotton bud, gently pat your concealer onto spots and a little around your nose and under your eyes. You can set this with a dusting of loose powder - ideally one with a light reflecting formulation. Then you're ready to apply your usual makeup.
Make Up Ideas for Men
There are far more beauty products available for men now and many make up products are so lightly formulated that, with careful application, you can cover up problem skin issues and boost your confidence.
If you have followed the advice above about not using harsh toners and washes, you may want to look for a range that you are happy to have in your bathroom. Many of the premium brands have male ranges, with ingredients suited to more oily skin. Some moisturisers also include a small amount of self tan, too, which can help minimise the visibility of skin problems.
It is also worth purchasing a concealer that is matched to your skin tone so that any large or unsightly blemishes can be carefully covered. If you get used to patting the concealer on your spots and then blending the edges with a cotton bud, no one will be able to tell and you can get that bounce back in your step.
You might also like...