Scarring as The Result of Severe Burning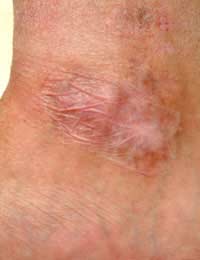 There are numerous ways that your skin can become damaged from burns. Skin discoloration, loss of feeling or sensation and scarring are the most common side effects of burn damage. Whether you will experience scarring after a burn depends on many factors including the type of burn you sustained, what caused the burn, how large of an area was affected, and the treatment that you received for the burn.
All About Burns
Overexposure to heat, electricity, chemicals, and radiation can cause burns. Some of these burns, like the type that results from split second contact with a hot pan, are easy to treat at home and usually do not result in scarring. More severe burns, like those experienced during house fires or from chemical spills, will require medical attention and more commonly result in severe scarring. Since burns vary in degree of seriousness, a classification system is used to rate the severity of injury.
First degree burns are minor burns and are recognised by redness, swelling, and pain at the site of injury. The damage caused by these burns only affects the top layers of skin. Second degree burns also feature redness, swelling and pain but are also accompanied by blistering. The damage caused by these burns can extend down to the deeper layers of skin, thus resulting in scarring. Third degree burns are the most severe and involve damage to the entire skin layer and in some cases the fat, muscles, organs and bones beneath the skin. These burns always result in scarring.
Contracture Scars
Scars can form from any burn or injury because newly formed skin tissue does not match preexisting skin. As the damaged skin is rebuilt by the body the new skin does not always look or feel exactly like the normal skin surrounding it. This new tissue can become even more noticeable over time since scar tissue shrinks as it heals. This scar tissue shrinkage can become a problem for people who have suffered severe burns since the shrinkage of tissue can affect larger areas of skin. For example, if the upper leg was damaged by a burn, the tightened skin over that muscle group could cause restricted movement and pain. This tightened skin is commonly referred to as contracture scarring.
Contracture scars are scars that result in the over tightening of the skin where a burn has occurred. This type of scarring reduces movement and may extend into muscle groups and nerves, thus affecting mobility even further. If pain is severe, or if mobility is extremely compromised, surgery can be performed to loosen the scar tissue and increase range of movement.
Ways to Minimise Scar Tissue
Although surgery can be performed to reduce the effects of contracture scarring, it can also be used to minimise the appearance of unsightly scars, especially those located on the face or hands. Skin grafts, a form of plastic surgery, can be used to reduce the ragged appearance of scars, smooth out larger areas of damage, and increase movement. In this technique, skin from other parts of the body is harvested to replace damaged and scarred skin. If natural skin is not available then artificial skin can be used. Since this procedure is very invasive and does carry potential side effects it is only used in the most necessary of circumstances.
Other, less aggressive, scar treatments do exist. Scar revision surgery, where the doctor trims areas of scarring and shapes the remaining scar tissue, can be used quite successfully to treat scarring as a result of severe burning. Dermal regeneration templates, where collagen and silicone templates are inserted after scar tissue has been removed, result in a reduction of scar tissue, fewer side effects, and a smoother appearance once new skin is added or grown.
Finally, for scars that are more unsightly than they are unhealthy, patients of severe burns can be taught camouflage techniques. Many medically formulated cosmetics, some of which are waterproof, are available that almost completely cover unsightly scar tissue. Cosmetic camouflage is perfect for facial scarring or any scarring that occurs in often-exposed areas of the skin. With the right colour match and some practice, the make-up can be applied in way that almost causes the scarring to disappear.
You might also like...